Gender Reveal Party Ideas
Are you excitedly awaiting the arrival of a little one and looking for gender reveal ideas? It might be time to start planning now, as you can find out the gender of your baby as early as 10 weeks into pregnancy!
A gender reveal party has become a go-to way for expecting parents to find out what gender their baby is while sharing the excitement with family and friends.
If you're reading this, you are probably wondering how to host and plan a memorable gender reveal party? Keep reading to learn creative gender reveal ideas and how to plan a gender reveal party for your little one that will stand out. Will it be a boy or a girl?
Before continuing on how to plan the perfect gender reveal party, don't forget to discover our gender reveal party supplies!
Gender Reveal Party Preparation
Although there is one main goal, gender reveal parties involve a bit of planning and attention to detail if you want to stand out with unique gender reveal ideas. You will need to think about how you want your party to look and feel before you dive into buying decorations or renting a venue.
A great place to start is deciding on a budget and guest list. Once you know how large or small your reveal party is going to be; you can make better decisions regarding games, food, and the big reveal moment. 
To plan a party you are proud of; you want to include elements like a theme. This can be as simple as some color coordination, or as specific as an Alice in Wonderland tea party with color-changing mocktails. In addition to the theme, you will want to plan out enough food, drinks, and snacks, to satiate your guests and games to keep everyone entertained. 
Send out your gender reveal invitations early enough for people to request a day off work if needed, that way you can have everyone that is important to you attend your special day. Keep your chosen theme in mind when creating the invitations, as this gives guests the first taste of what to expect at your party.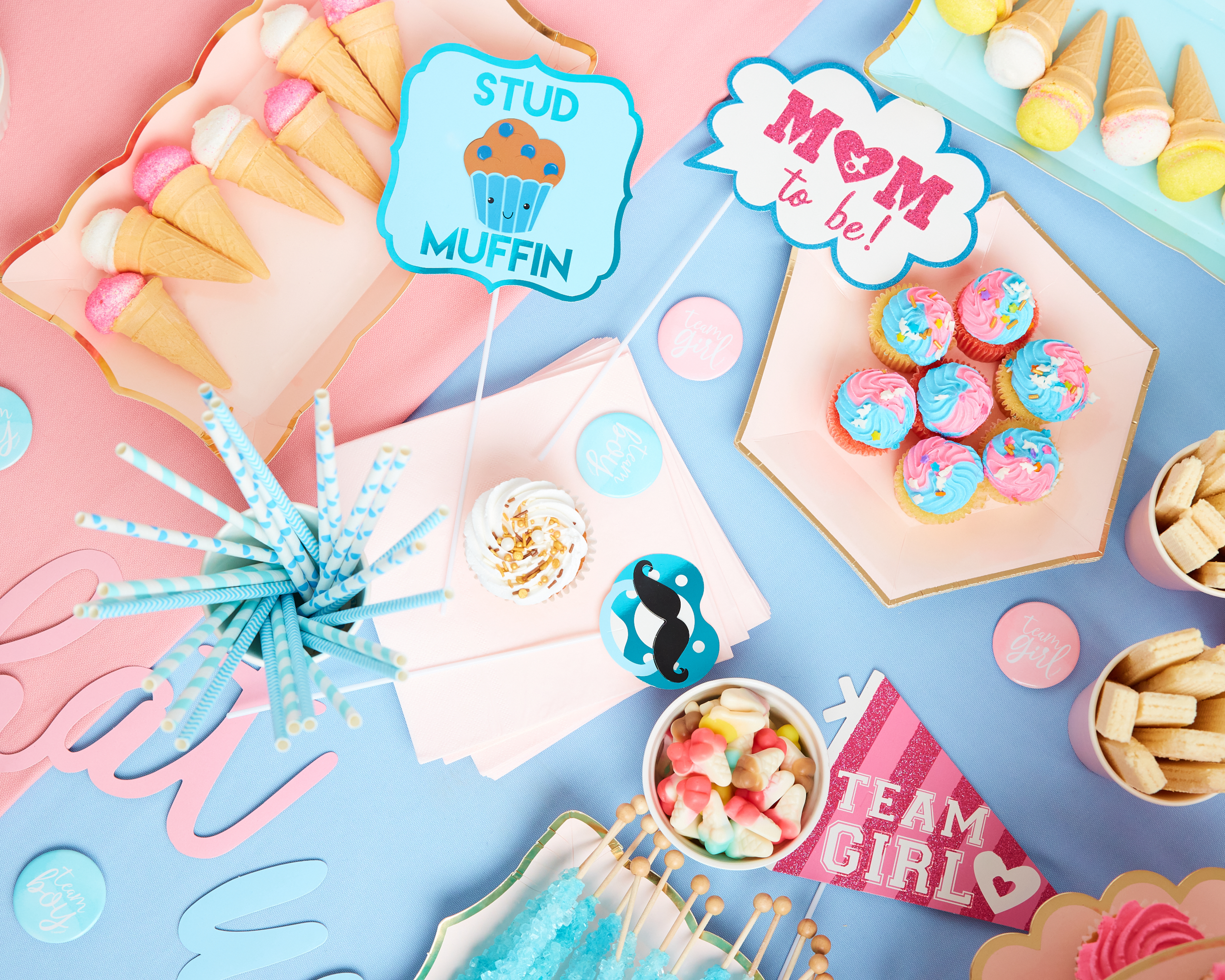 Gender Reveal Party Decorations
Gender reveal decorations are half of the fun when it comes to planning your gender reveal. You can make a DIY gender reveal banner that welcomes guests to your event and saves some room in your party budget.
Other decorations that will be important are things like balloons, streamers, napkins, plates, silverware, and table cloths. Have some fun with this part and tie your party in with the theme of the event.
For example, if you are having a lemon-themed party, have a bunch of lemons that you can lay around the food tables. Slice lemons and make a garland that can be hung around the room, or draped over the tables. You can also have a big drink dispenser filled with lemonade, helping to keep your guests hydrated and acting as beautiful centerpieces to the tables.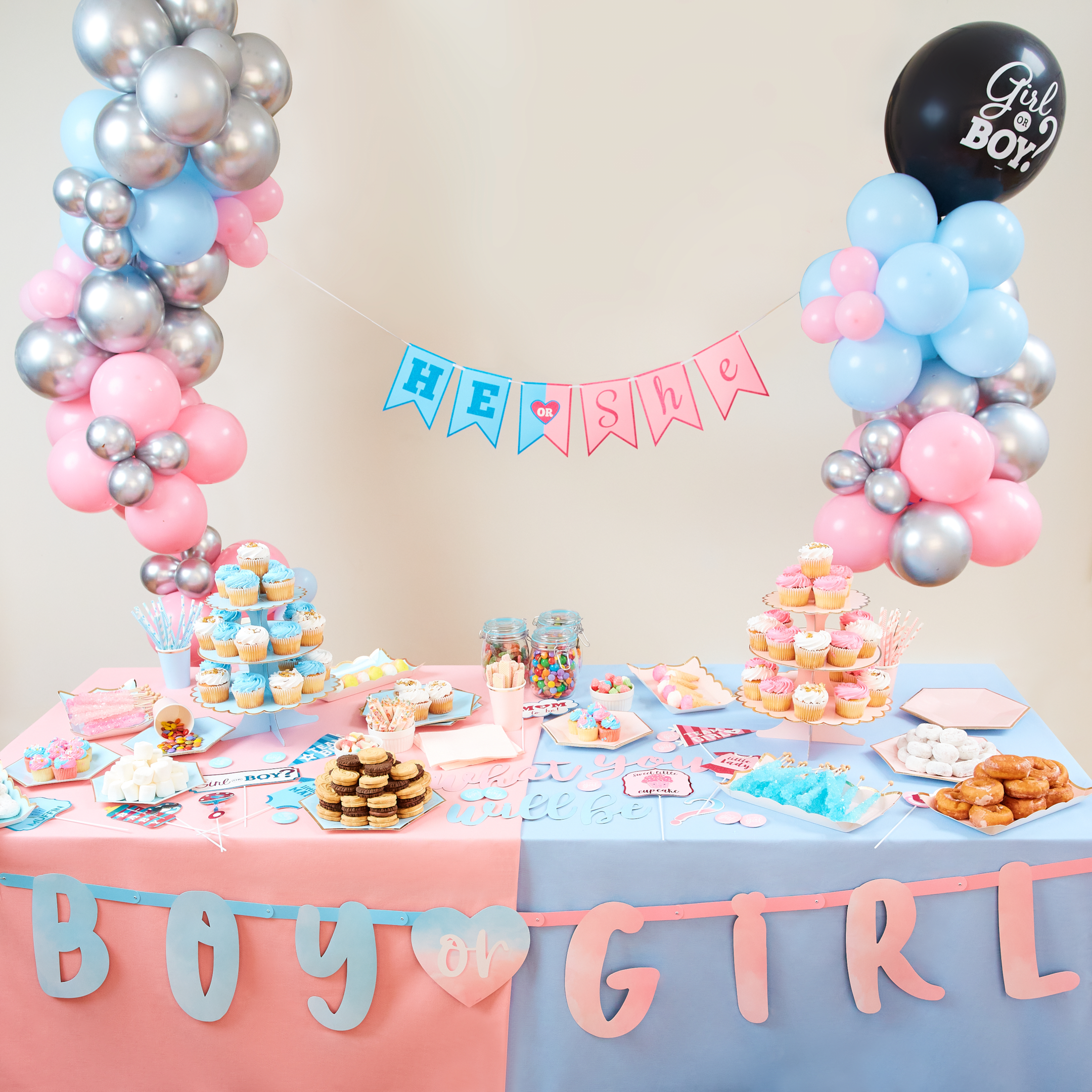 Now that you know the gender reveal party theme and have the gender reveal decorations for your party planned out, you can get started on making them!
One of the best gender reveal party decorations are gender reveal cupcakes. Begin by searching for gender reveal cupcakes that feature the color or design of the gender reveal party theme you'd like to celebrate.
You can also incorporate other gender reveal party decorations, such as a gender reveal banner, a cupcake stand, party table accessories, or party invitations into the gender reveal cake or cupcakes you're planning to decorate.
If you'd like to share the gender reveal cupcakes you're planning to decorate with your guests, you can either post a photo of the gender reveal cupcakes on social media, or you can include a description of the gender reveal cupcakes in the invitation you're sending out for your gender reveal party.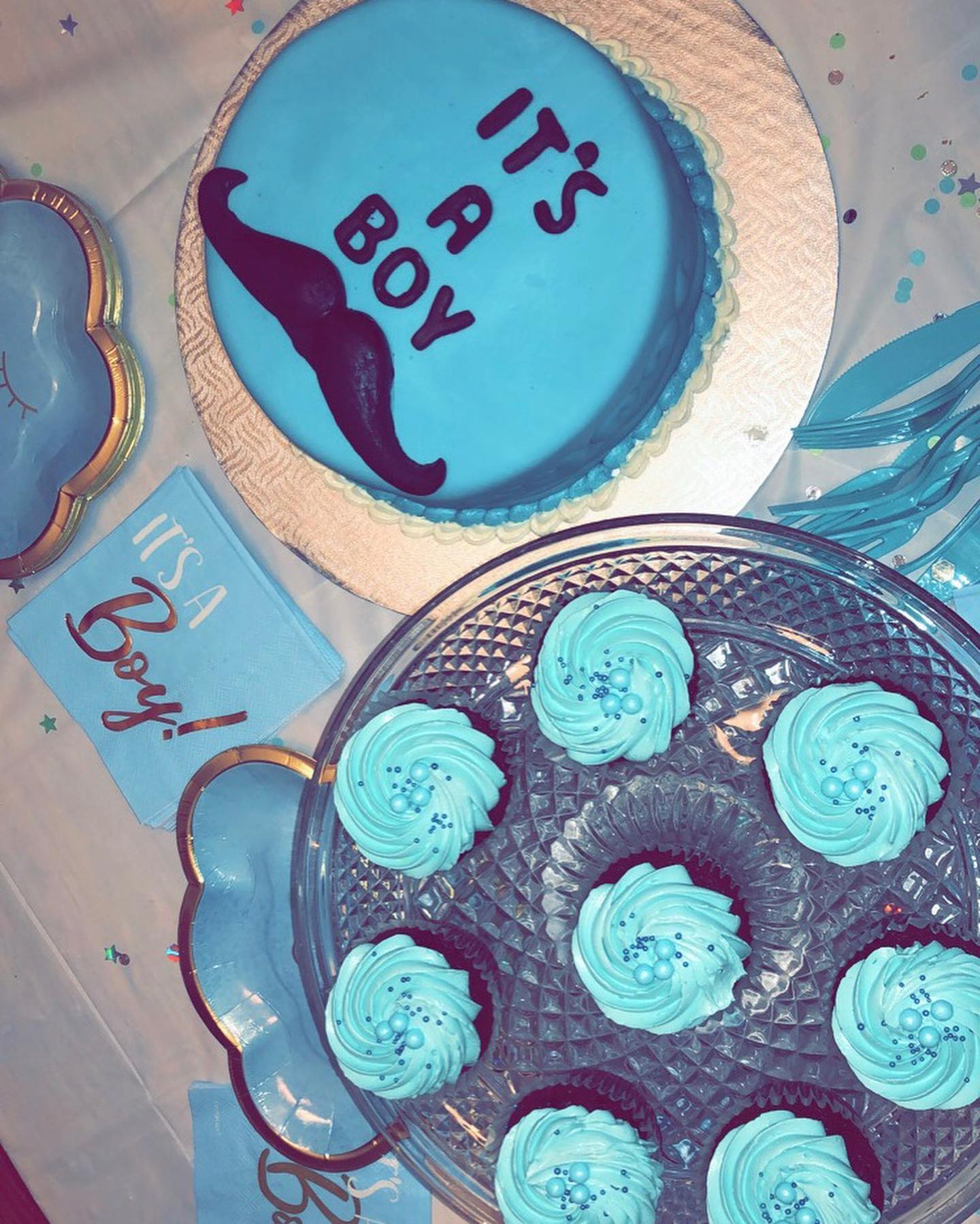 Gender Reveal Party Theme Ideas
If you need some inspiration when it comes to choosing a gender reveal theme, here are some that can get you started. Don't stress over this detail too much though.
As long as you make sure to have some tasty treats, a bit of entertainment, and a reveal that is memorable you will be sure to always cherish the memories made at your gender reveal. 
Classic baby pink and baby blue reveal

Sports reveal 

Baseball reveal 

Golf reveal

Hockey reveal

Soccer reveal

Summertime reveal 

Powder reveal

DIY balloon pop board

Glitter reveal

Smoke reveal

Confetti and silly strings reveal

Reveal balloon box

Car enthusiast reveal

Woodland creatures reveal

Winter reveal

Bees and honey reveal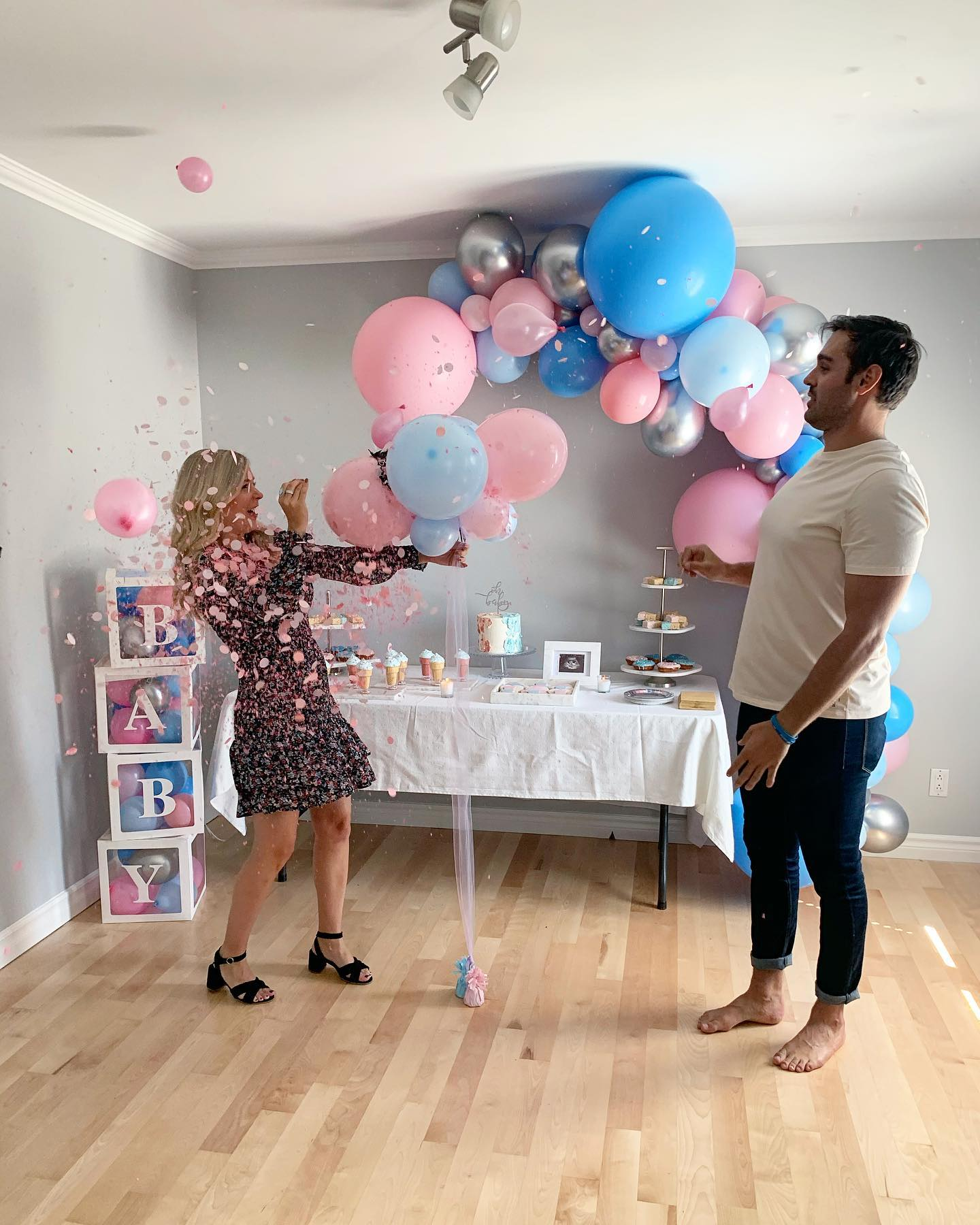 Gender Reveal Cake with Food Coloring
This is a classic option when it comes to gender reveal ideas, but it is one that remains a fun and exciting choice that can be personalized to fit your style. You, a family member, or a local baker who is up for the task can put their heart into making a centerpiece out of your cake.
Whatever kind of frosting or decorations you want can adorn the top and when you cut into the cake the decadent layers will announce the gender for everyone to see. You can even get fancy and hide candies or sprinkles inside of the cake for extra fun and dramatic effect when it is sliced up.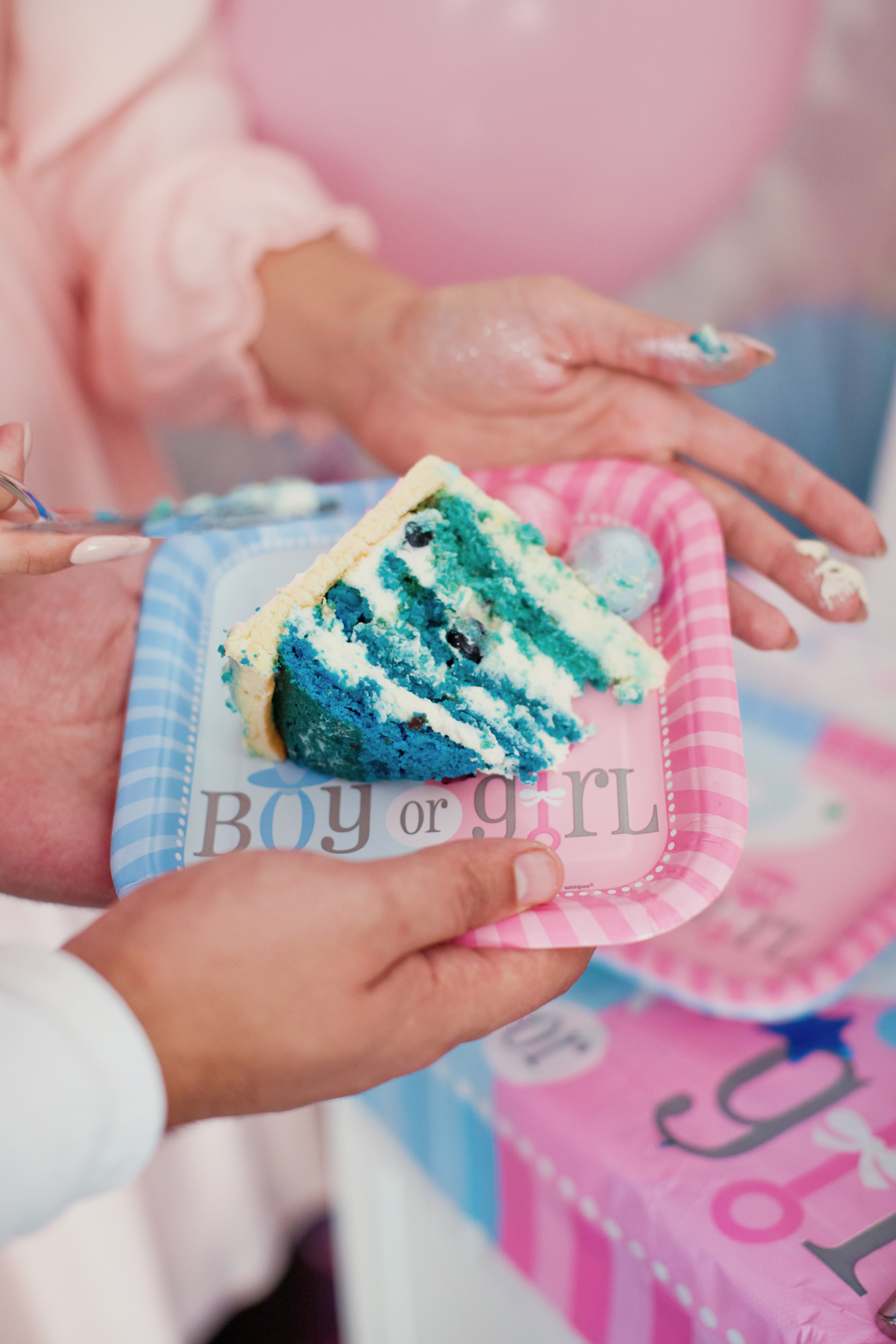 Gender Reveal Balloons
This is a simple, sweet, and exciting way to tell everyone what you are expecting. You can hide colored balloons filled with helium inside a box that is waiting for you to open it. Or you can get a special gender reveal balloon filled with pink or blue confetti. Pop the balloon to see what the baby will be with a burst of color. 
Make it interactive by having pink and blue balloons blown up for guests to grab depending on what they think baby will be. When the time comes gather everyone around and open the lid! Out floats the balloons, giving you the surprise you have been waiting for, and picture opportunities you will be thankful for. 
Gender Reveal Cupcakes
The perfect gender reveal idea for a family of foodies, gender reveal cupcakes are super cute and double as a decoration piece and a sweet snack for guests. Have a friend or bakery create cupcakes with a hidden color inside, so when it is time to eat, the expecting mom and dad can bite into their cupcakes and find the ultimate surprise.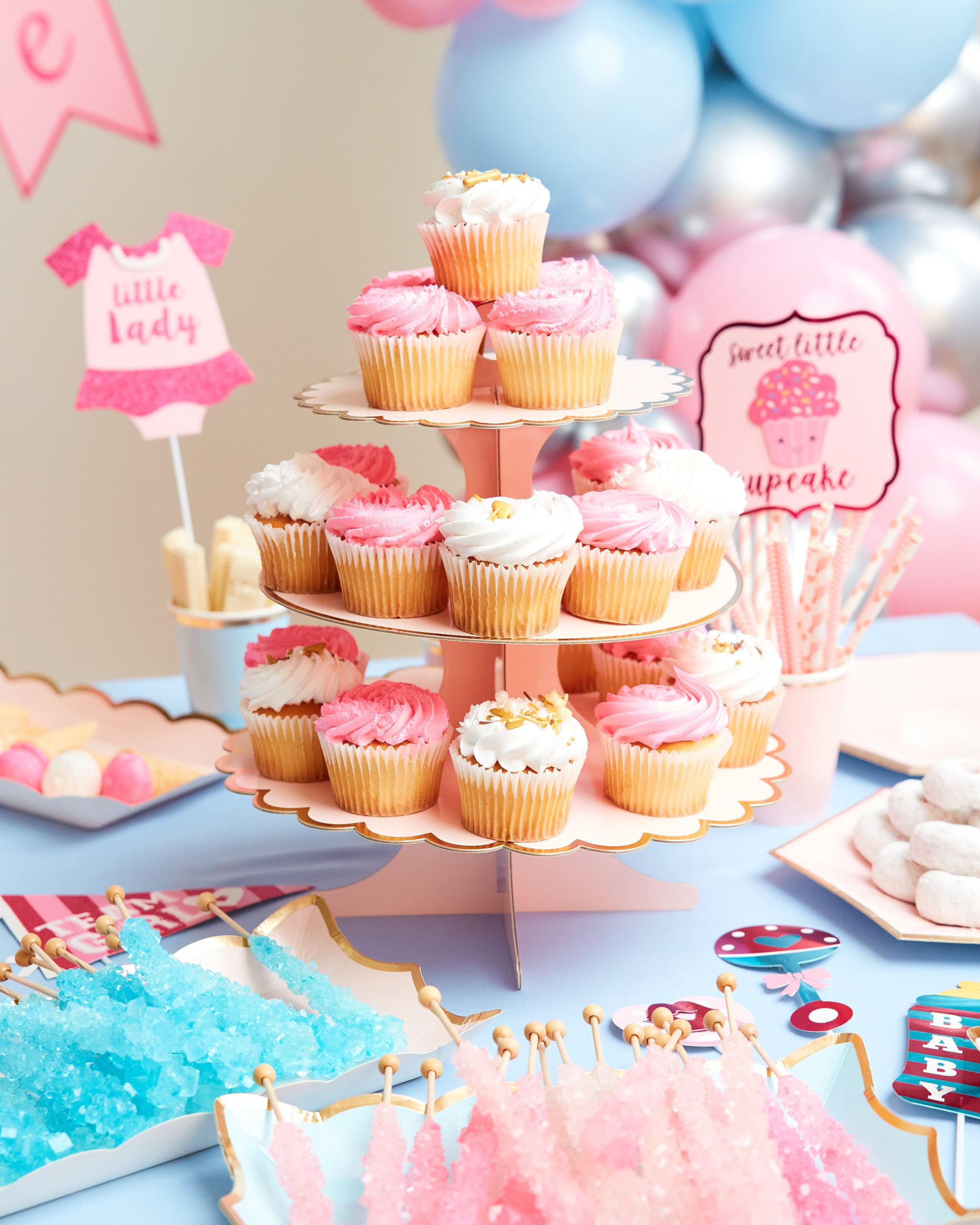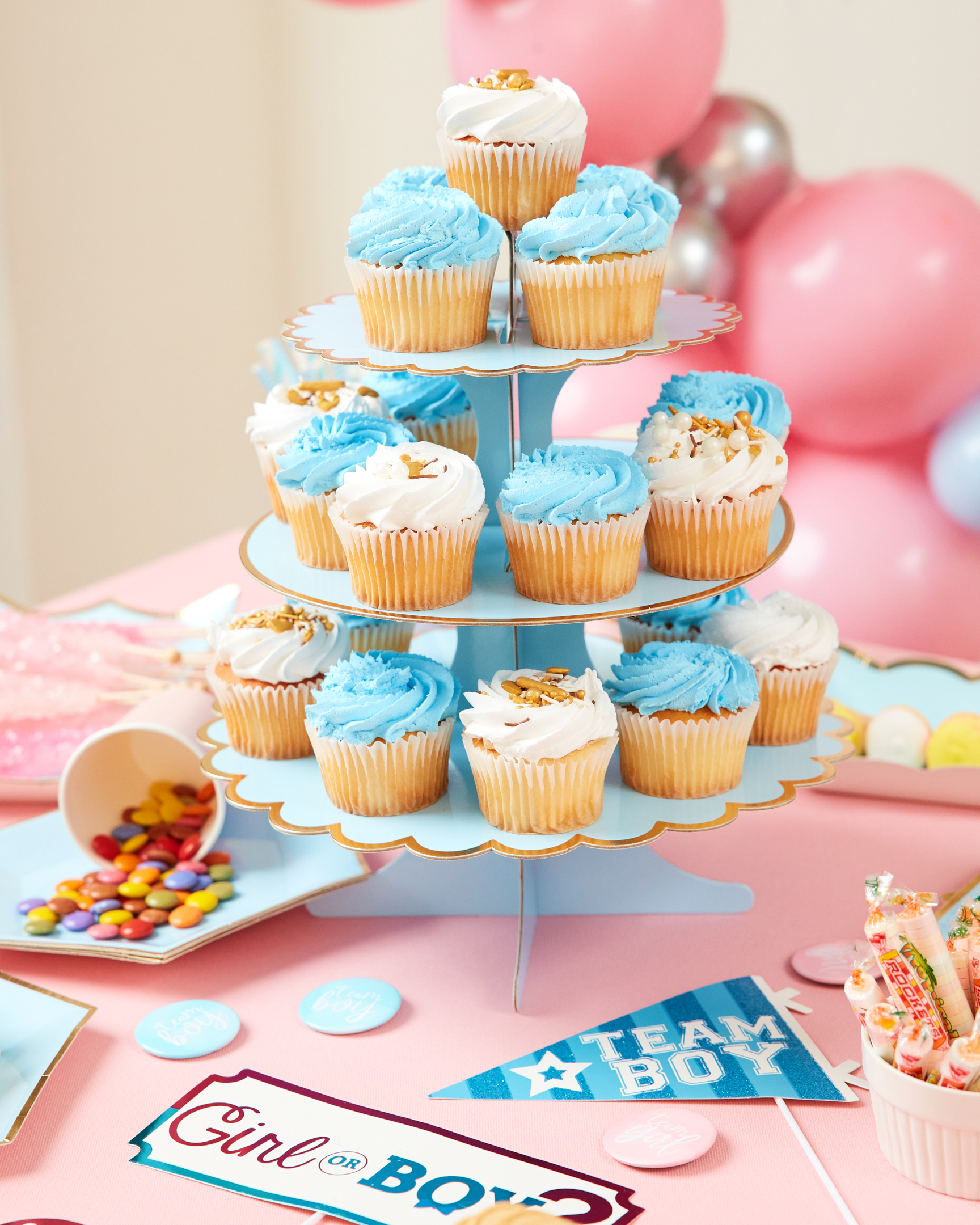 Gender Reveal Blue or Pink Fireworks and Smoke Bombs
Gender reveal fireworks are about as dramatic as it gets and will be sure to bring excitement to any gender reveal party. This is one that is very important to plan out, as fireworks can be dangerous and you want to minimize the chance of any mishaps ruining your special day. 
Find a safe place outside to set up and read any instructions or safety warnings before attempting this one. The same applies if you are using colorful smoke bombs.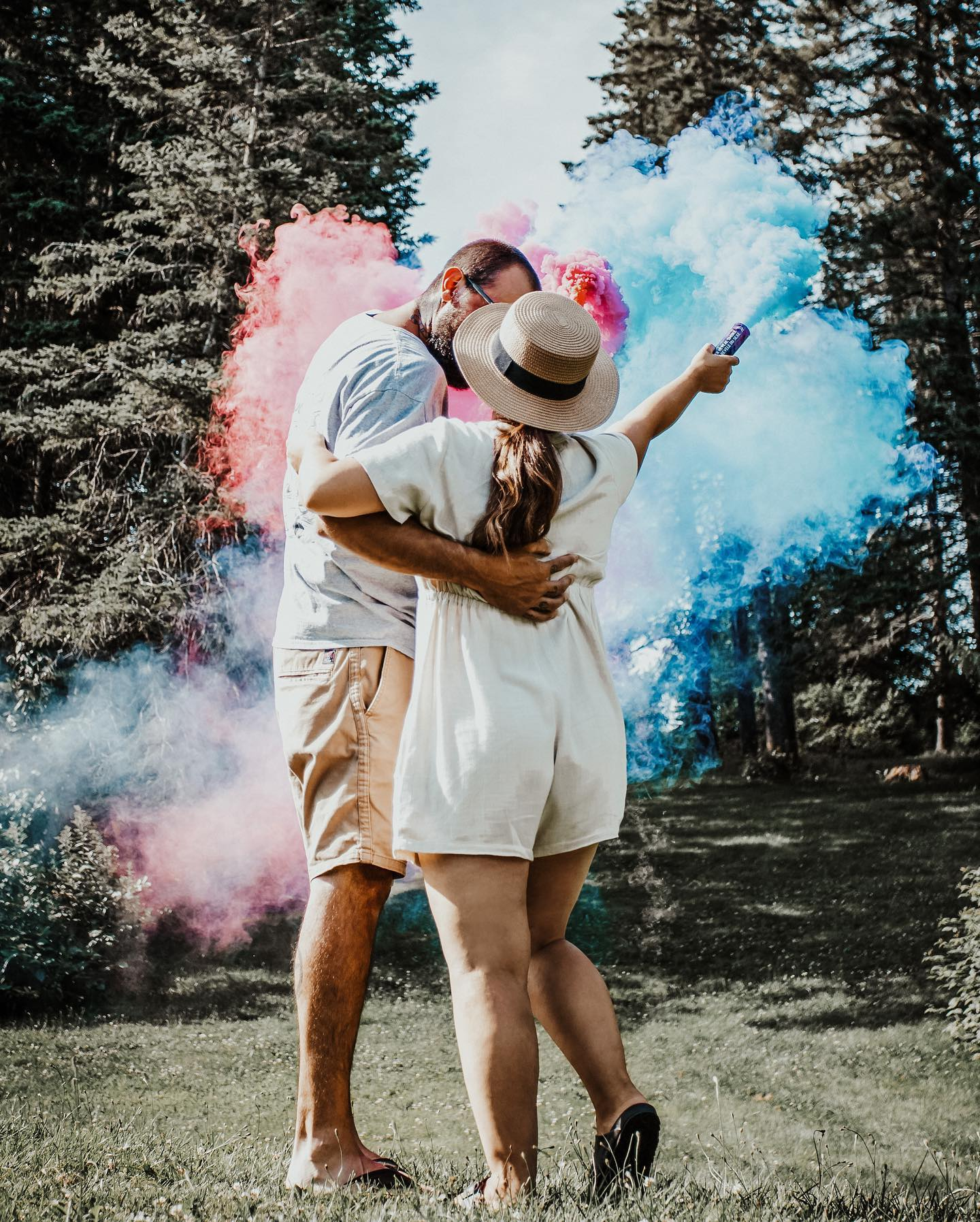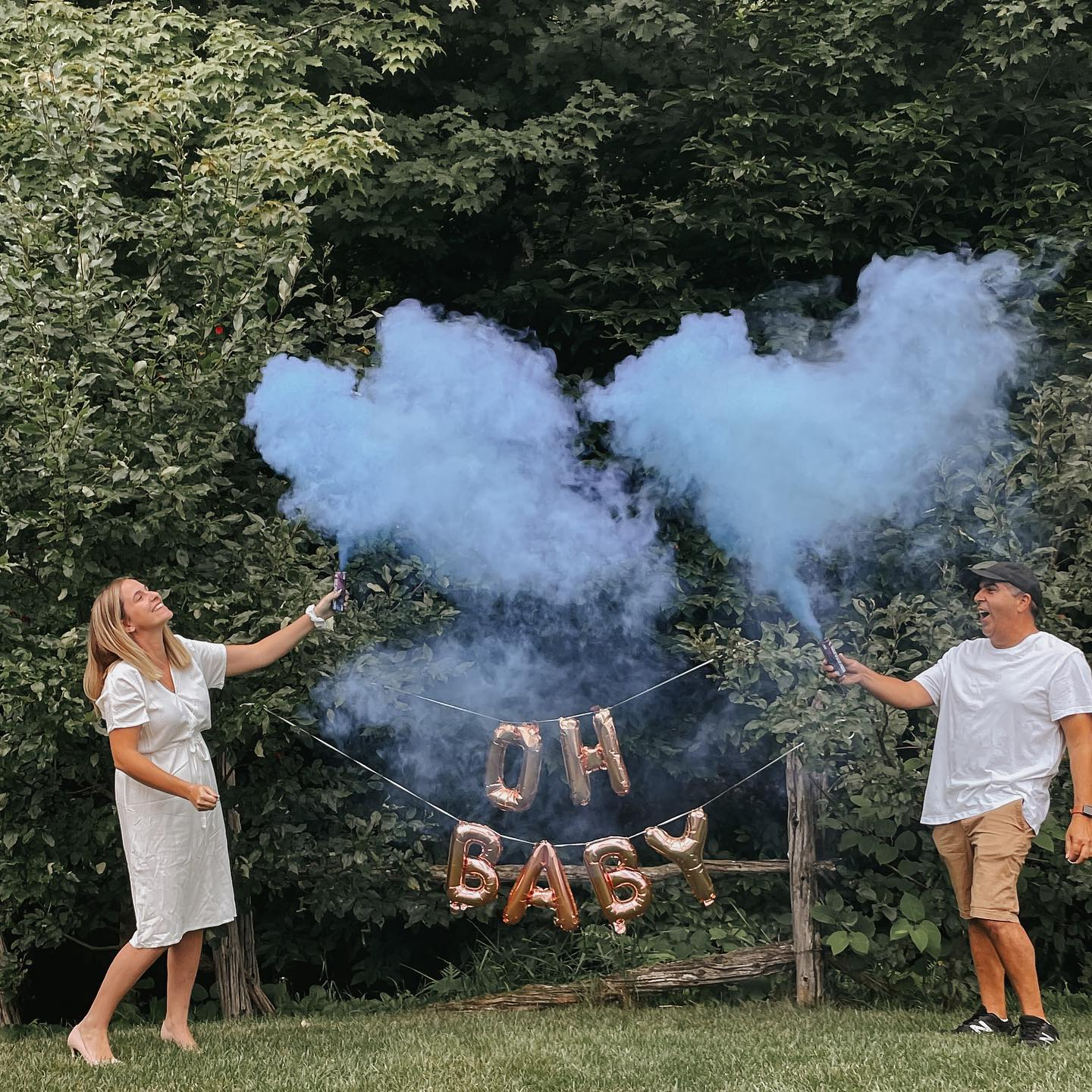 Gender Reveal Baseball for the Big Reveal
This is a super fun way for sports-loving families to do their baby gender reveal. You can have the entire party set up to match the baseball aesthetic or keep it general with cute baby blue and yellow colors and sporty decoration details.
Either way, these powder-filled baseballs explode with color when it is time to see the gender reveal. The level of involvement is sure to make this option one everyone will remember with fondness. You can also opt for a soccer ball, hockey puck, or another sporty medium. 
Gender Reveal Pink or Blue Confetti Cannon
The gender confetti cannons and pink or blue powder cannons have gotten a lot of attention in the last few years, but that doesn't mean you can't take this reveal idea and make it safe and unique. The reveal moment is spectacularly Instagram-worthy so if you are heart set on getting one-of-a-kind pictures this may be an option for you.
Make sure you pick a fitting background that the confetti will stand out against and that it is in accordance with the setup instructions and safety warnings. You can have enough cannons for you and your guests to set off, or you and your partner can take center stage and do it yourself.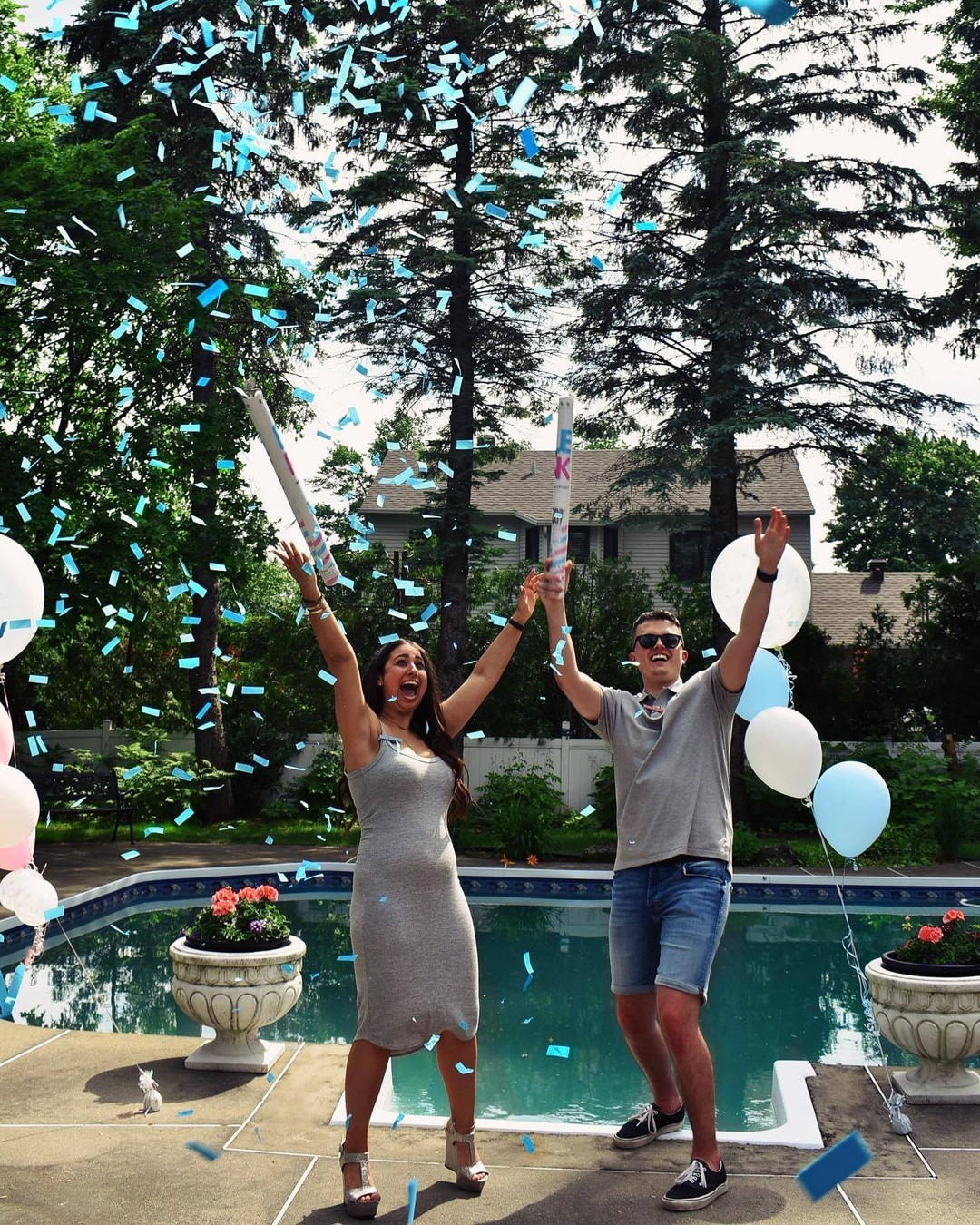 Gender Reveal Golf Ball for the Big Reveal
The gender reveal golf ball is such a sweet option for families that like to hit the green. It is the perfect option for an elegant gender reveal party and fits in with many themes like a tea party, soiree, or country club party.
Have the golf ball set up on a tee that everyone can see and you or your partner take a swing to explode the golf ball and reveal the powder that tells everyone what is to come.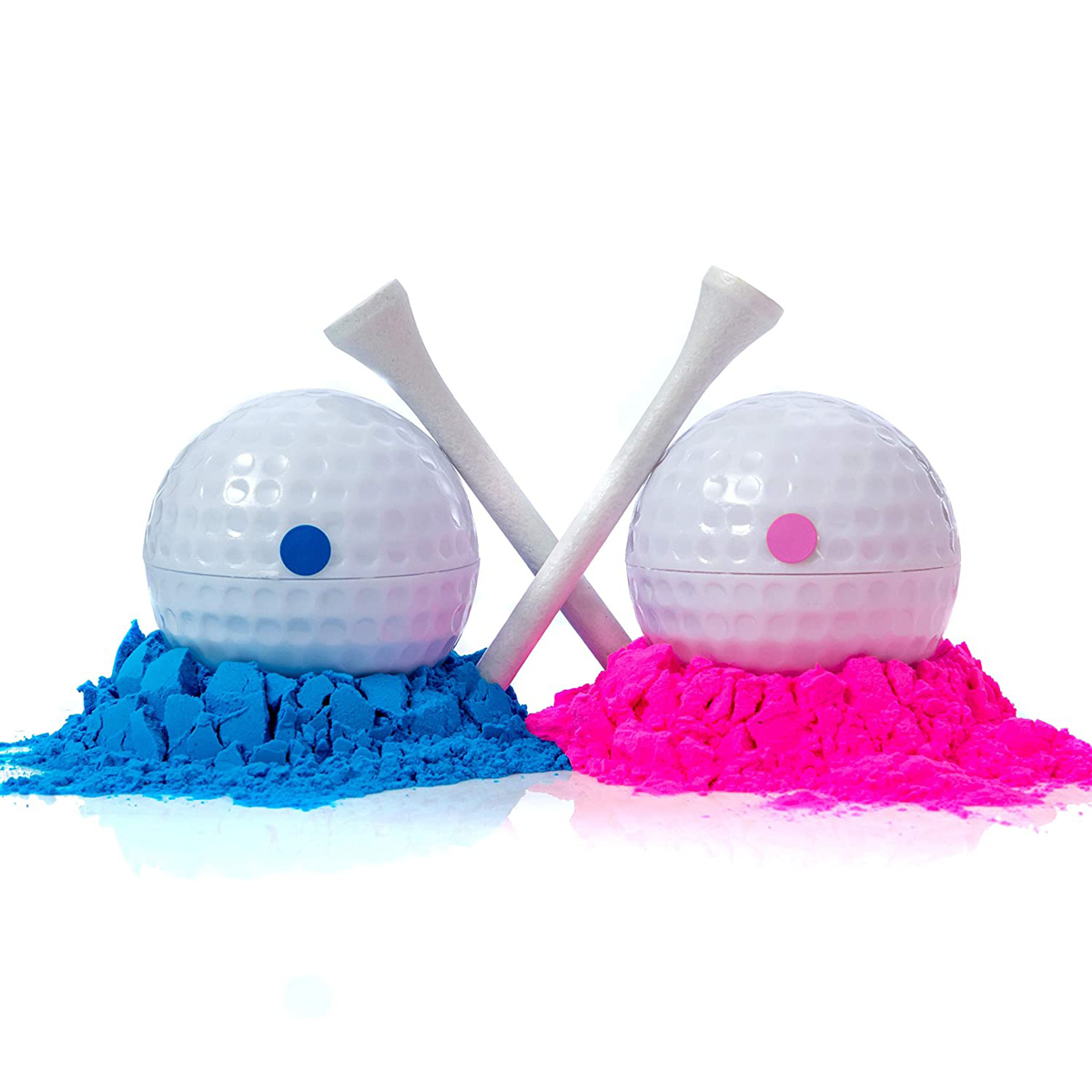 Gender Reveal Pinata for the Big Reveal
Another fun and less used idea is to crack open a gender reveal pinata. This option gets guests involved as many people might get the chance to take a swing before the secret inside busts out. You can fill the inside with homemade candies or store-bought ones and little toys. This way your guests can take a little something home with them.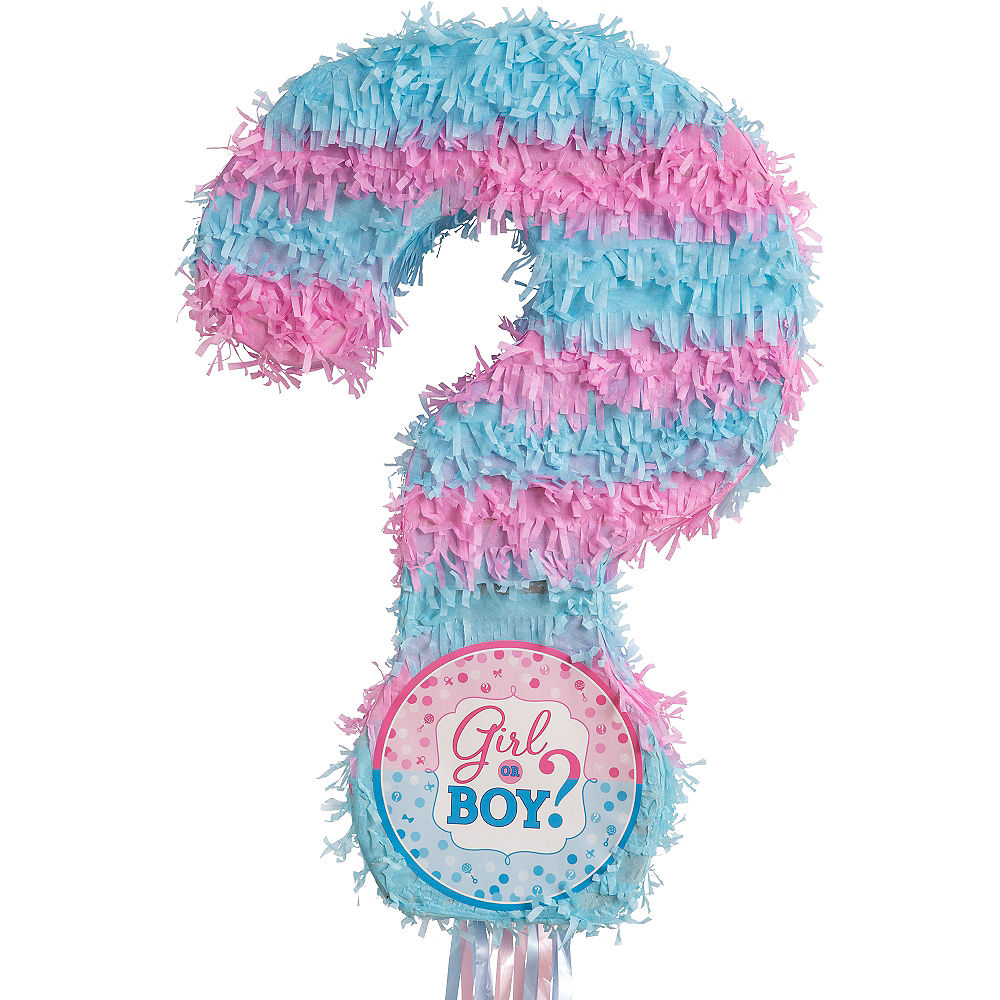 Blue or Pink Paint Party
One of the first things you can do when planning your gender reveal party is get creative with the paint. Whether you're painting a ceiling blue and painting a temporary wall pink or vice versa, you can create an atmosphere that is both unique and festive for your gender reveal party.
You can also get creative with the paint by mixing in other decorations, such as gender reveal party lights and sprinkles, with the paint. You can even get creative by making gender reveal party stencils on the walls or the ceiling and using them to write the word "baby" or "gender" on the wall or ceiling. Once the paint is dry, you can invite all of your guests to pose in front of it and snap pictures to celebrate with the announcement of the baby's gender.
If you're more of a party goer, turn your gender reveal party into a paint party! This idea may sound crazy, but we guarantee you will go back to your childhood where any ideas were fun ideas!
Gender Reveal Games
Having entertainment is a crucial aspect of any party. Especially at a gender reveal since it is so similar to a baby shower, where people expect to play games for prizes.
There are many different games you can play, and the options increase with the theme of your day. Here are a few simple ideas to help get you started. 
Gender Reveal Bingo
This is a fun game that everyone knows how to play, so it is really simple to execute. You can make your own, or find a template that is already done for you. Print extra copies just in case and have pink and blue crayons for people to use when playing. 
Gender Reveal Word Search
This is another simple game that everyone knows how to play, so it takes minimal effort. This game is ideal for keeping people entertained while you wait for everyone to show up or food is being served.
Print off enough copies for everyone to play plus a couple of extras and bring plenty of blue and pink crayons or markers. You can time this game to see who finishes fastest. 
Guess the Gender
This is reminiscent of traditional baby shower games, and it fits right in when it comes to gender reveal party games, too. When everyone shows up have them choose a blue or pink button to represent their guess. They pin it to themselves so everyone can see their guess.
Whoever guessed correctly gets their name entered into a raffle to be the ultimate winner and get a prize. Or, if you're feeling generous everyone who picked correctly can win a prize. 
Mommy or Daddy Guessing Game
This game is a lot of fun because it is personalized to the soon-to-be mom and dad. Someone can ask questions or read statements to the group trivia-style, or they can be printed on sheets of paper for people to answer individually. 
The point of the game is to guess which parent the fact or question pertains to. Whoever knows mom and dad the best will win a prize. 
Cornhole
This classic yard game can be a perfect addition to a gender reveal party, especially one that is held outdoors.
You can set up a bracket to find the ultimate champion of the day, or leave this one open for more random challenges throughout the event. It is a great way to get guests mingling and settling in.
It doesn't have to match the gender reveal theme, but if you want to coordinate you can get bean bags that match the colors of your party or decorate the corn hole boards with some contact paper for a more festive vibe.
Baby Guess the Lyrics
This game is sure to up the energy at any gender reveal party. Make a playlist beforehand of baby-related songs. Make sure there is a little something for everyone by choosing songs that span different time periods and genres.
Some examples are Baby by Justin Bieber, Hit Me Baby One More Time by Brittney Spears, Sweet Child Of Mine by Guns and Roses, and Don't Worry Baby by the Beach Boys.
There are tons of options to choose from so have some fun making the playlist and watching your guests sing along. You can give out little prizes to anyone who gets the lyrics right or save one big prize for whoever gets the most right.
Tag Us in Your Gender Reveal Party Pictures @party.expert
A great way to remember your special day is to get some quality photos. The special moment when you find out the gender of your baby will undoubtedly create some breathtaking pictures full of happiness.
Once you are able to relax and look back on your day please don't forget to tag us on Instagram so that we can share your special moment with you. There is a chance we can feature your memorable moments on our accounts. 
Start Planning Your Gender Reveal Today
Now that you are prepared with great gender reveal ideas get started planning your special day right away. Make sure you get your invitations out early and purchase all the decorations you need so your party is just like you imagine.
Check out our blog to get more inspiration like how you can set up a balloon garland that will wow your guests. 
Planning a gender reveal party can be a lot of fun, and this article will help you get started. From what to expect at a gender reveal party to what to expect from a gender reveal party, this article has everything you need to know. Once you're ready to start planning your own gender reveal party, you can use this article as a guide.
Looking for Baby Showers Party Supplies, shop now at Party Expert the best baby shower party supplies in Canada's No.1 online party store.