Are you ready for your graduation party? Find the best graduation party ideas here at Party Expert! Our team has selected 20 graduation party ideas for super festive celebrations.
Graduation season is very nearly upon us. Whether your child is about to graduate from high school or college, throwing the BEST PARTY EVER is the aim of every loving mom.
And, let's face it, any excuse for a party will be gratefully received after the very limited socializing opportunities during the pandemic. If you're looking for the best graduation party ideas and graduation party supplies, you've come to the right place.
Here are 20 fantastic graduation party ideas to ensure that it is the special occasion your child deserves. Magical memories are guaranteed.
Party tip: The key to a successful graduation party for a high school graduate is to keep things simple. With a graduation party for a high school graduate, you don't have to go overboard. You just need to get the party started and you can relax as the day progresses. Keep in mind that the food and décor will always be a good choice for the Instagram generation!
Graduation party supplies
With so many graduation party ideas, you'll want to plan your celebration with the help of some fun graduation party supplies. From graduation cap favours to candy and balloons, you can find tons of great graduation party supplies to make your celebration memorable. For an outdoor graduation party in the park or in your backyard, you can also throw a great grad party with our help.
With a graduation cap favour for each guest, guests can celebrate their graduation in style. And if you're planning a party indoors, you can decorate with graduation party decorations. From balloons to decorations and more, graduation party supplies can help to make your celebration even more memorable.
Before you continue, discover our selection of popular grad products:
Graduation Party

Idea #1: Easy indoor graduation decorations 

Home graduation parties are set to be more popular than ever in the post-pandemic era. They're cheaper, safer, and more convenient. Perhaps the biggest challenge, however, revolves around transforming your bland home setting into grand graduation surroundings. 

The right graduation party decorations will make the space far more inviting for guests - psst, they can also be strategically placed to cover ripped wallpaper or other cosmetic damages that you'd rather people not to see.

The best graduation decorations include centrepieces, graduation banners, and doorway curtains depicting graduation caps and other popular items. Alternatively, they may carry messages like "Class of 2023".

While the main colours for a grad party are black, gold and silver, add balloons for a festive and chic look. They come in many school colors to complement your grad party decor!

 
Graduation banner
You don't have to stop with just a graduation cap and a bunch of balloons. With a fun graduation banner, you can really make your graduate stand out. Whether it's your loved one's name or you'd like to make a statement, you can do so much with a graduation banner. You can go all out and make a statement with a giant, colourful graduation banner. You can also opt for a more subtle banner that simply says something like "Graduate" or "Congratulations".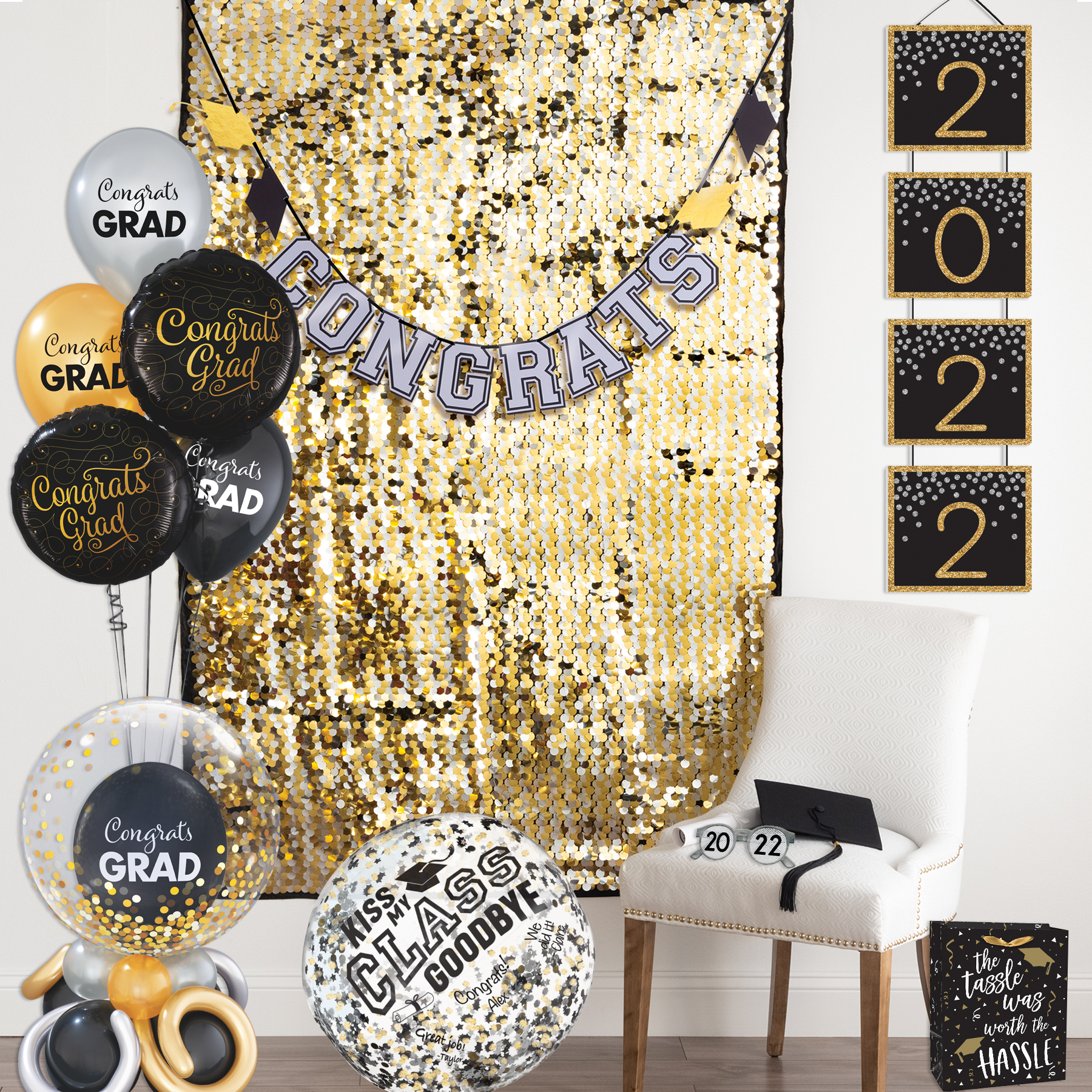 Graduation Party

Idea #2: Decorate with photo memories 

Graduating from high school or college is a massive moment in any student's life, and the thought of moving on to a new chapter is immensely exciting. However, the past few years will have provided many magical memories. Photos are the best way to remember them.

Creating a graduation photo wreath can be a fun DIY project for the weeks leading up to the big graduation party. Including snaps of your child with their friends during extracurricular activities, as well as some family photos should provide the perfect solution.

If you have a home projector screen, you could also run a slideshow of photographs. It is a great way to add a sense of personalization to your graduation party. And some of those candid snaps are sure to generate laughs too.

 
Graduation Party

Idea #3: Set up a card station 

Card stations are a popular addition for many special occasions, including weddings, engagement parties, birthday celebrations, and more. Graduations are another fantastic example of a time where you can use a card station to see stunning results.

Creating a DIY card box is another relatively simple task. You just need to decorate a box and create a sign to advise guests that it is a card station. People can then leave their cards in the box or at the table.

In addition to the card station, you may wish to create a space for letters or leave a guest book for people to share messages and memories. Those words can be read back and treasured time and time again over the years to come.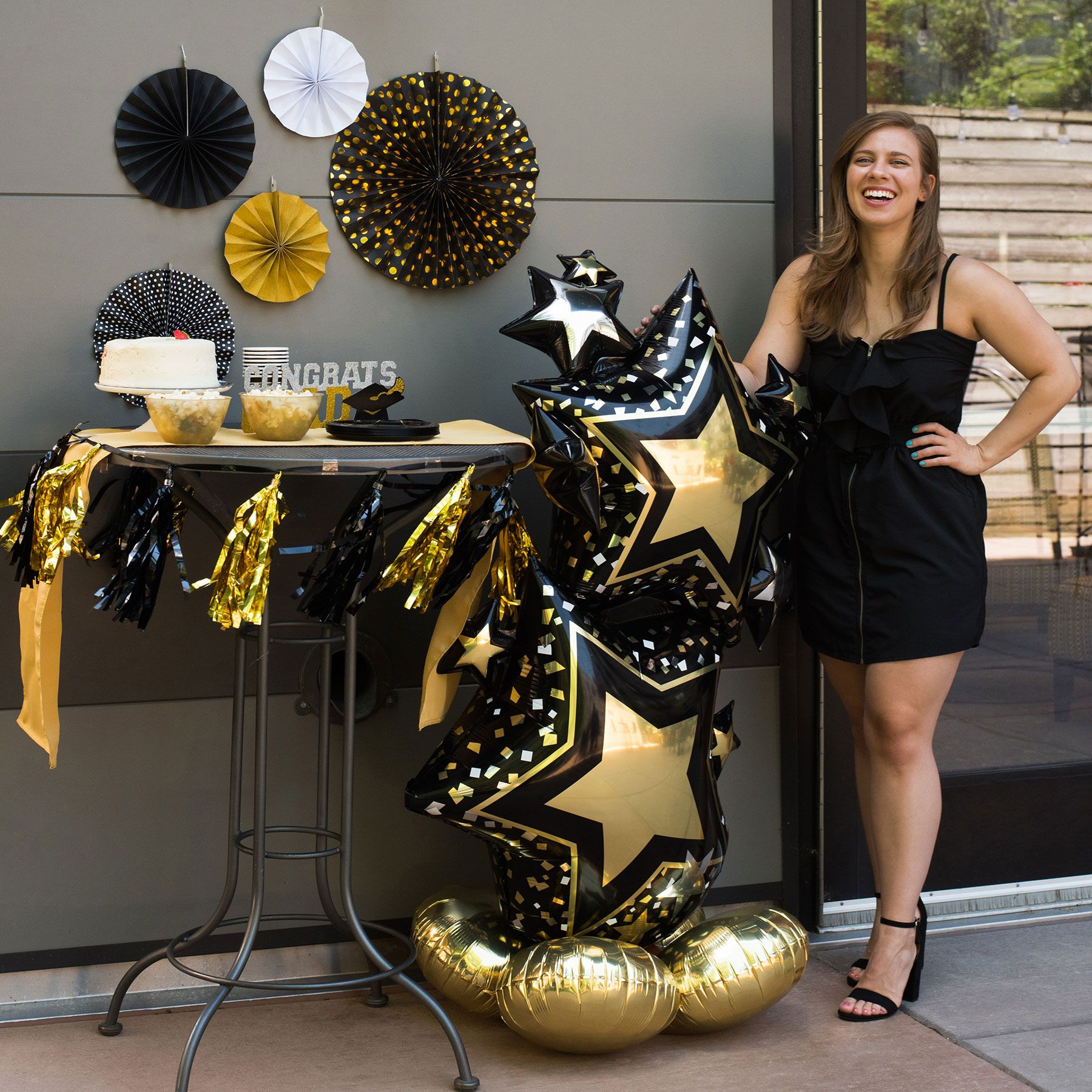 Graduation Party

Idea #4: Write it your way with letter balloons

Let's face it; balloons are fun. Better still, they offer an inexpensive way to decorate the home in a powerful way. While you will probably use standard balloons for decoration, letter balloons are sure to add something extra special.

One option is to purchase balloons in the shape of individual letters. Another is to opt for balloons that spell out a word. A balloon kit that spells out "congrats" is a particularly good choice because it won't take up too much space.

Of course, you could spell out "congratulations", "happy graduation", "you've graduated" or a variety of other terms. Crucially, you will want to carefully consider the balloon colour choices as they should reflect the overall theme.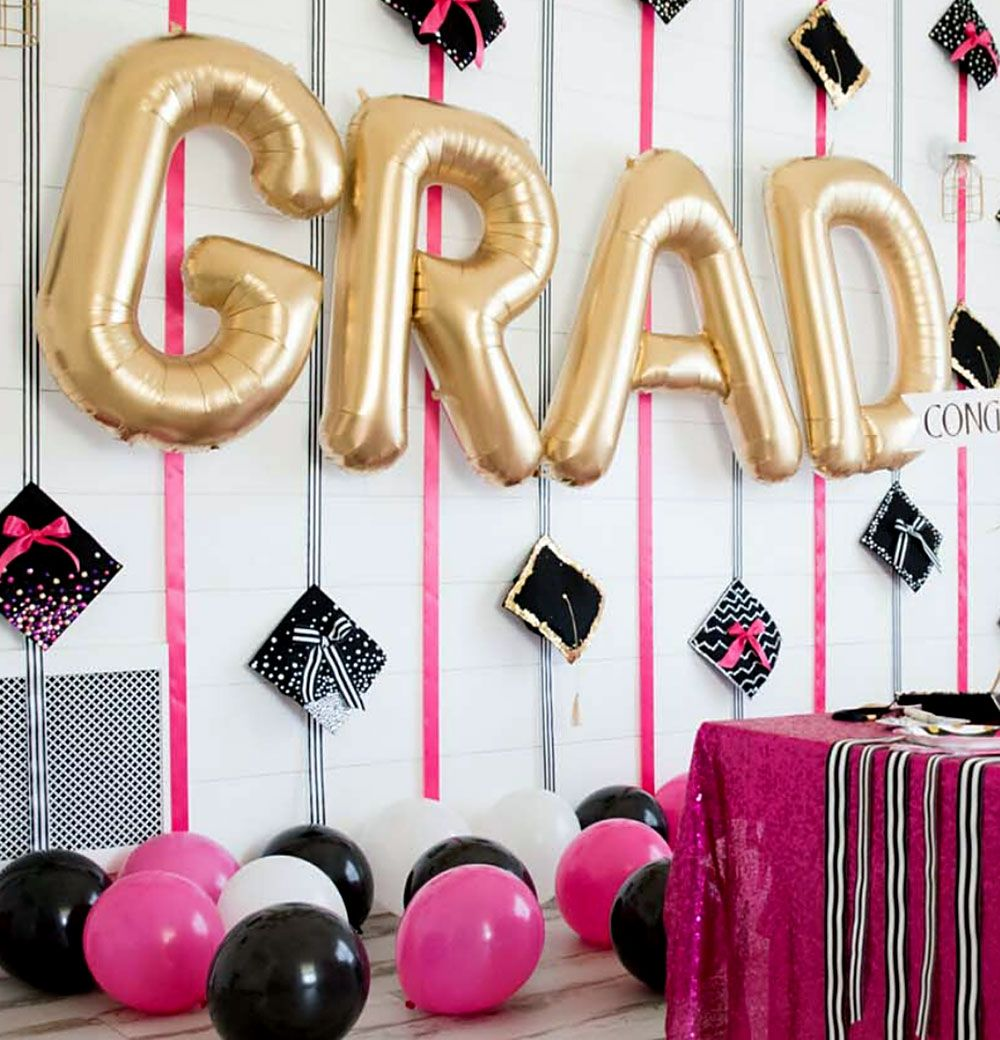 Graduation Party

Idea #5: Celebrate with a graduation candy buffet 

Food glorious food. If there's one thing that's guaranteed to win over a party audience, it's some delicious treats. A candy bar is guaranteed to be a hit with the teenagers and young adults at the graduation party - ok, even the fully grown adults will too!

As well as selecting an array of different candies and chocolates, a variety of candy bar accessories can be used to make it more of a feature. This is also one of the best backyard graduation party ideas, as long as you keep the table covered with a marquee.

The graduation candy buffet can also be utilized to let guests take something home with them. Treat boxes will make this possible while also preventing candies from falling onto your carpet - where they could be stepped on to cause a stain.

 
Graduation Party

Idea #6: Graduation Gown and Graduation Hat for the best Grad pictures! 

A quality graduation robe or gown will be crucial for the big event held at the school, college, or university. And they will probably be kept as mementos forever. Thankfully, affordable wearables can be purchased as dedicated graduation party supplies. 

Whether it's a graduation hat or graduation gown, wearables can be bought for your graduating student. Moreover, you can find plenty of options for young children, which allows them to feel included. Or you could throw a small elementary school graduation instead. 

When imagining a graduation party, seeing the new graduate(s) dressed in their attire is a central feature. When planning your home or garden graduation party, then, cheap yet comfortable wearables are ideal.
Graduation Party

Idea #7: Create a Photo Booth! 

Photo booths have become one of the must-have accessories for all major celebrations. They can be hired from professional companies, or you could create your own station with a cupboard, some lighting, and a digital camera.

Decorating the photo booth with gold and black fans will make a bigger deal of the fact it is a graduation party. Meanwhile, a range of photo booth accessories can be used to encourage fun and adventurous photos.

Don't forget to create a perfect photo backdrop with some black and gold decorations. Add balloons to your photo backdrop for a fancy and festive look! As a final touch, you could also add graduation banners in the background or anywhere you want.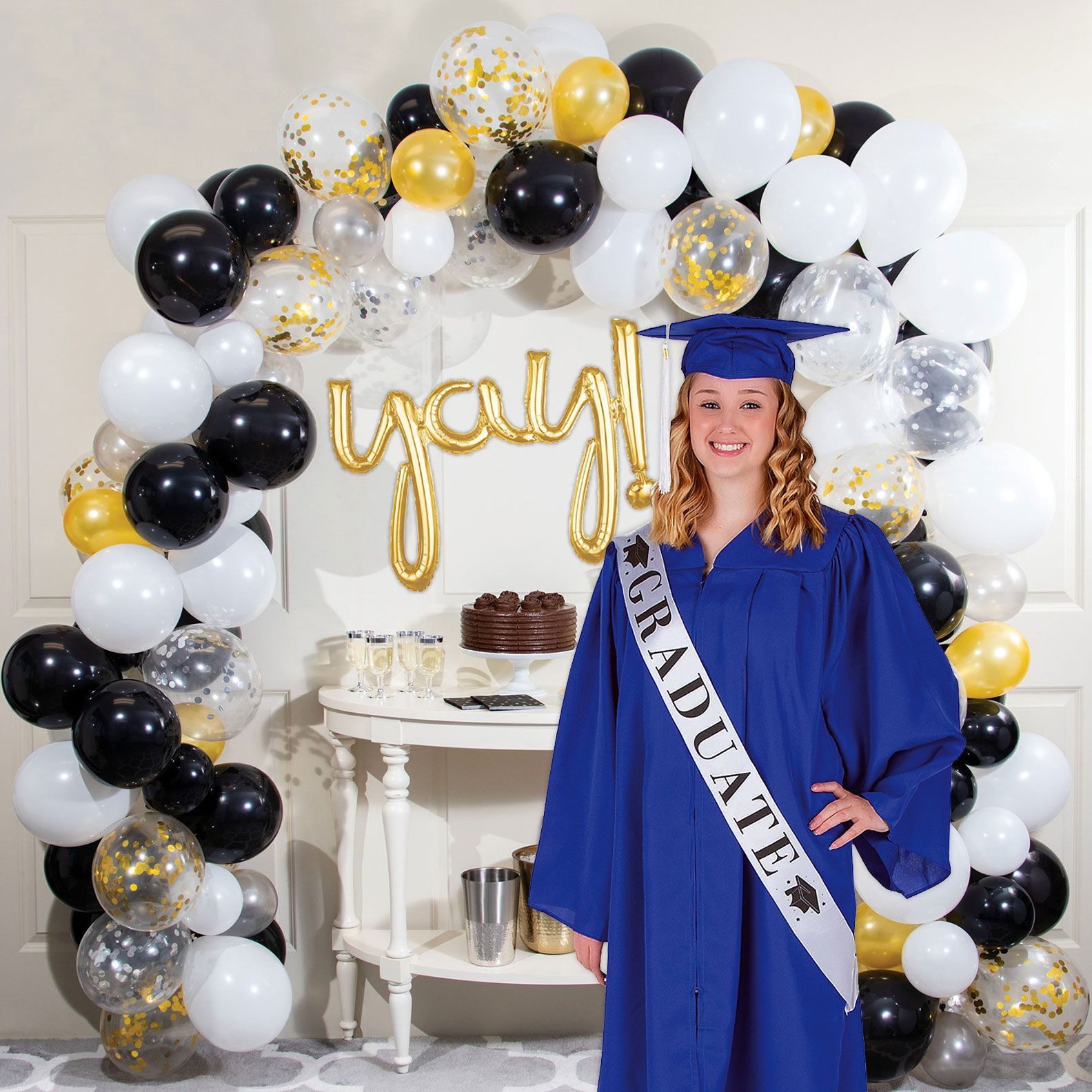 Party hack: How to hang paper fans. First, tape doubled lengths of fishing wire to the fans with packing tape, then attach the fishing wire to the wall with tape. This makes it easy to move the fans around as you create your layered masterpiece - and avoid damages.
Graduation Party

Idea #8: Bake something sweet

While the popularity of candies has been discussed, you also need a standout item. Graduation cakes are, therefore, among the very best graduation party ideas. If possible, baking two kinds of cake (one to cover gluten-intolerant guests) will work wonders. 

Alternatively, your graduation cakes could include cupcakes. Either way, graduation-themed cake toppers, and bakeware can have a telling impact on the final appearance of your baked treats. Again, they should ideally fit the theme of your graduation party.

Blowing out the candles can be another perfect photo opportunity too. Furthermore, it is one of the few moments during the graduation party in which everyone will be gathered around each other. This is something to treasure forever.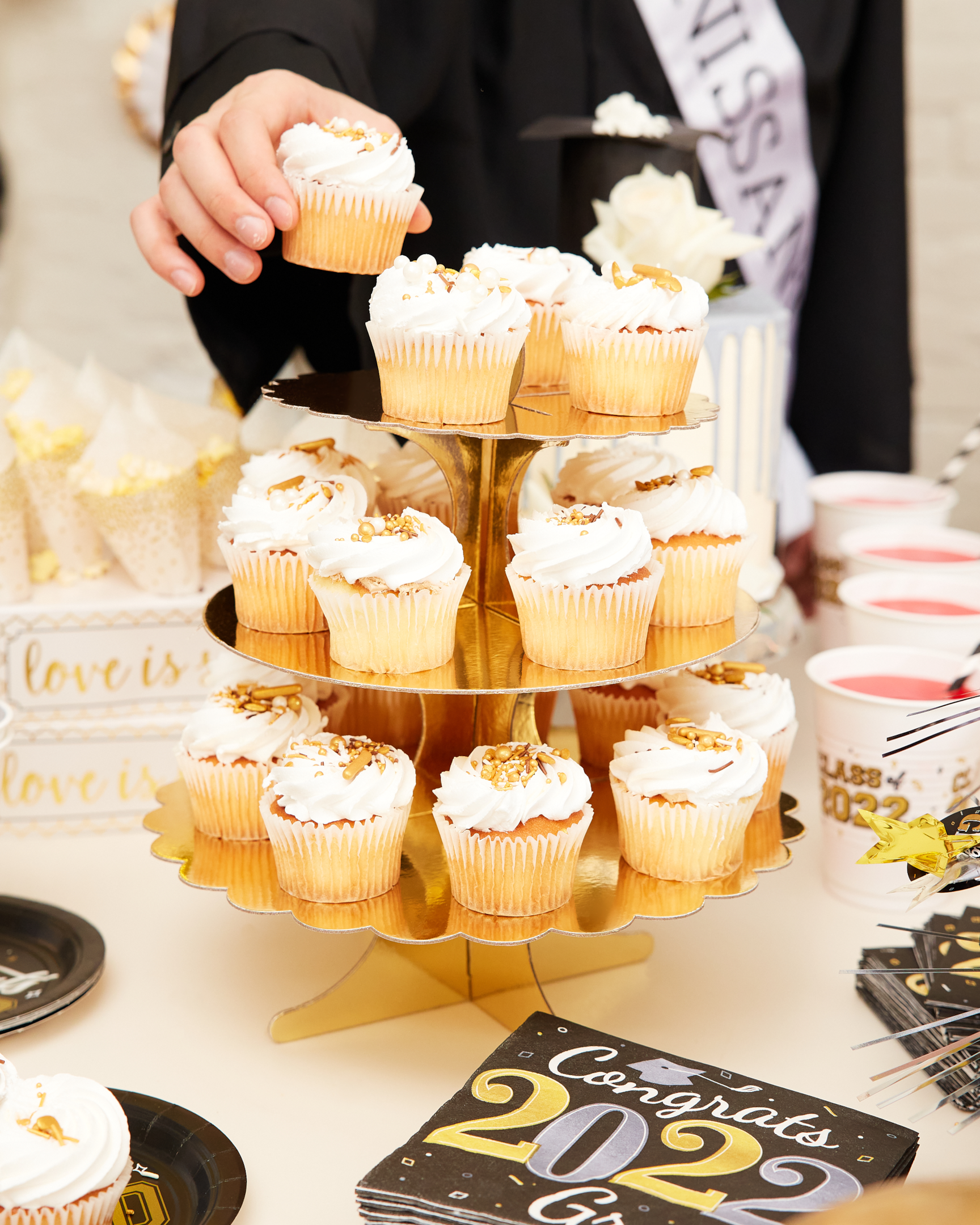 Graduation Party

Idea #9: Create a graduation balloon arch in your backyard 

Graduation parties are perfect for hosting outside. Graduation balloons can be used in many ways, cementing their place as some of the most important graduation party supplies. Letter balloons express a message while standard balloons add colour. A graduation balloon arch truly creates a special atmosphere.

As far as outdoor graduation party ideas are concerned, this is one that makes yours stand out. Again, the black and gold theme should be a central factor for your latex balloon arch kit. You could add them to the entrance of your home, but the garden makes more sense.

The arch of coloured graduation balloons will look fantastic. For the very best results, though, you may wish to add a supershape balloon to either side of the arch. Once again, the aim is to make it clear that you are celebrating your child's graduation and completed studies.

Balloon arches and garlands are the perfect outdoor graduation party ideas! Level up your grad party with one of these.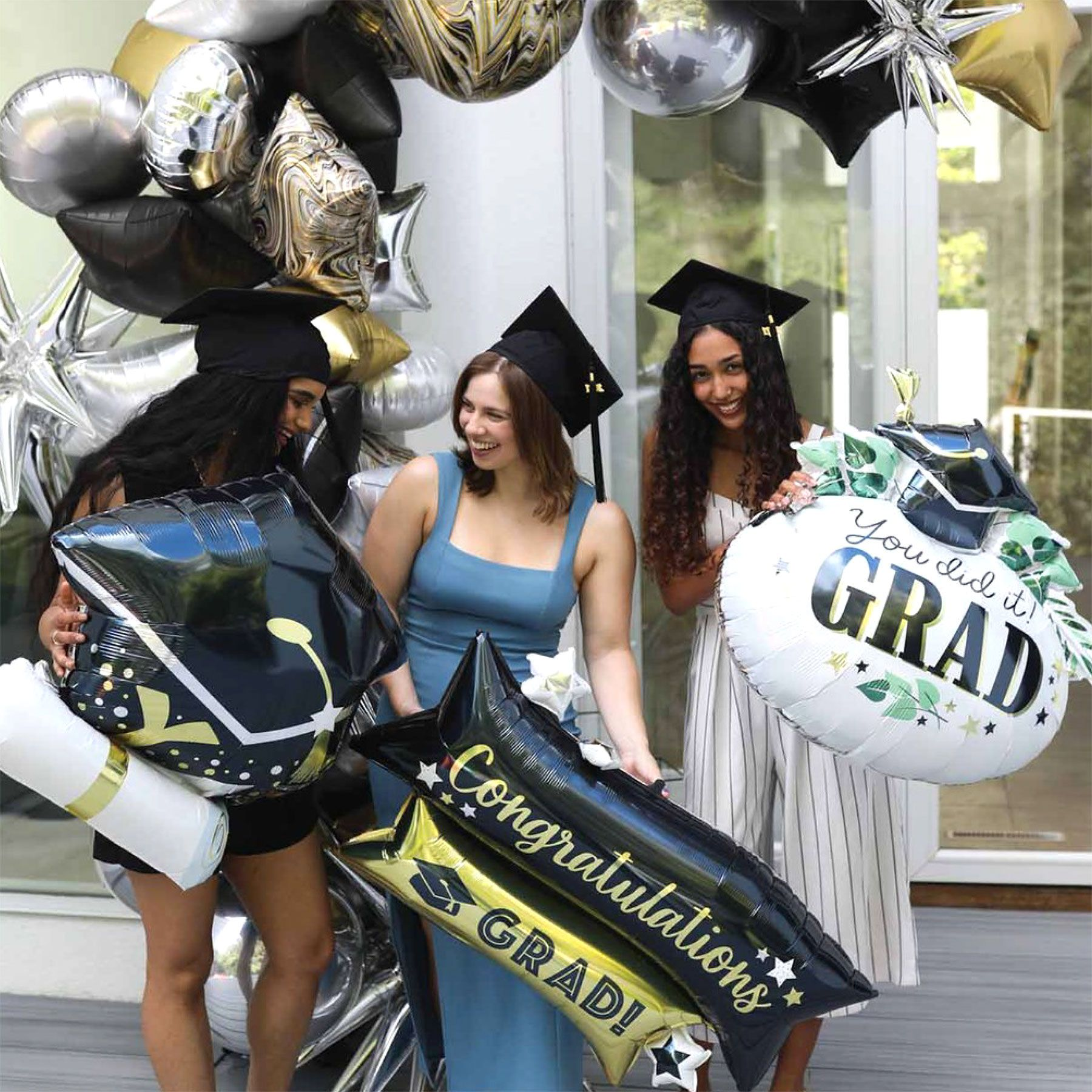 Graduation Party

Idea #10: Graduation Balloon Bouquet 

The versatility of balloons as graduation party supplies is further highlighted by the use of graduation balloon bouquets. They are very popular as backyard graduation party ideas, not least because they are super easy to use.

Unlike a flower bouquet that requires a lot of intricate work, the graduation balloon bouquet comes as a set. Gold, black, and white are some nice school colors supported by a message of congratulations to the grad and can proudly stand in the garden.

They can be used as a centrepiece, meaning only one set is needed. Alternatively, you may use two or four sets to be placed in the corners of the garden or as an entrance up to the deck. The possibilities are endless.
Graduation Party

Idea #11: DIY Graduation Balloon Garland

A graduation balloon garland is another fantastic way to use balloons for your graduation party. Better still, you can buy individual gold confetti balloons to create a unique and personal design that's perfectly matched to your event and the available space.

The garland will naturally enhance your graduation decorations in a big way. Meanwhile, releasing the confetti at the end of the event or at another suitable moment will add an extra ingredient of fun to your celebration. Perfect!
Graduation Party

Idea #12: Decorate Your Car for the Class of 2023 

In addition to home grad decorations, you may also want to invest in a graduation "Class of 2023" car decorating kit. Whether you use it to decorate your vehicle or your child's car, it is a wonderful way to build added excitement on party day.

The car can be driven slowly up and down the road or left on the driveway. Aside from integrating with your graduation party decorations, it will make a clear display of where the party is being held. This can be very useful for guests who haven't visited before.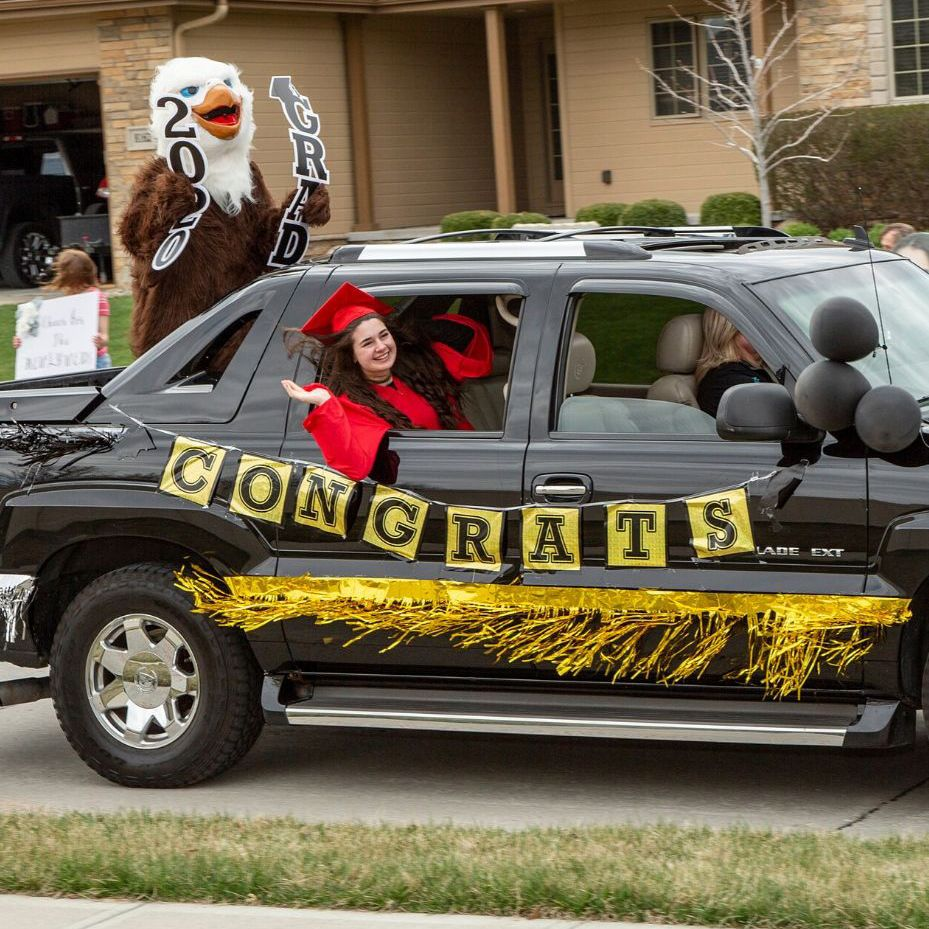 Graduation Party

Idea #13: Graduation Gifts

As a loving parent, it's quite likely that you will have already bought some gifts to celebrate your son or daughter's exam results. This could range from vacations to game consoles. However, a small and fun gift to remember this day can make a great addition.

Small graduation favours that depict a graduation cap or say "Class of 2023" are fantastic keepsakes that can take pride in the home. Along with photos, these are the products that can be cherished for years and shown to future grandkids.
Graduation Party

Idea #14: DIY donut board with Graduation decoration

If you had said donut board to us 20 years ago, we'd have scoffed. This guide to creating a donut board will allow you to create the perfect wall of treats for your guests. And you can even leave a special section for the graduates.

You can add black, gold, and white graduation decorations around the board for extra appeal. As for the donut icing, why not try a combination of those colours along with a range of other bold colour schemes.

 
Graduation Party

Idea #15: Add Confetti Balloons to your celebration 

Confetti balloons aren't only great for the garland. They are also great as photo props, creating big celebration pictures, and much more. Combining black, gold, and silver confetti balloons adds to the party theme. It also boosts the sense of luxury of a backyard party.

You don't need all balloons to include confetti, but those that do will add a burst of colour and energy to your party event. When looking for simple graduation party ideas, this is easily one of the most effective solutions to decorate for a fun night with family members.
Graduation Party

Idea #16: Graduation buffet table and dessert table

The graduation candy buffet table has already been discussed. However, it's also important to think beyond the sweet treats to think about sandwiches, finger foods, and more. A wide selection for all dietary requirements and preferences will be the key to success.

Guests probably won't admit it, but the food choices can make or break your graduation party. By using the right tableware for graduation buffet tables, you will get some truly incredible results. Not least because the buffet table will look more appealing at your grad party. Even cute paper straws and fun ice cubes are a nice personal touch!

Graduation-themed napkins add a small but impactful touch to the party! Don't forget them.

Party tip: A thing to keep in mind when planning a backyard party is food. If you're having a sit-down affair, you can keep your options relatively simple by making a buffet of finger foods.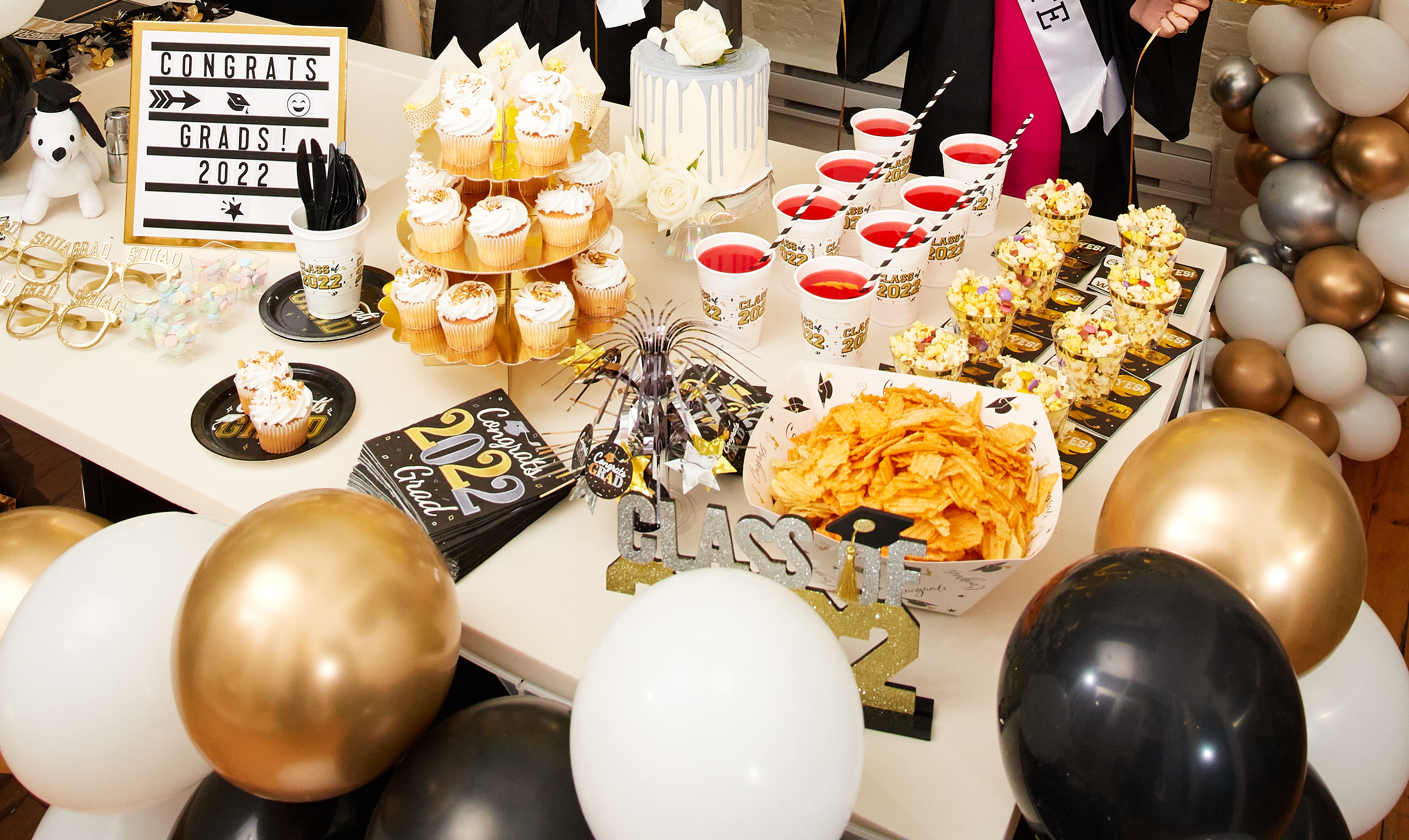 Dessert Table
If you're planning a dessert table for your graduation party, you're in luck! No matter what kind of party theme you're planning, there is bound to be a place for dessert.
With tons of dessert recipes available online, you can easily pick something delicious and easy to make for your snack table on graduation day.
Whether you want to go traditional with a chocolate cake or you want to try something new, there's sure to be a dessert recipe you love. You don't have to stop at just a dessert table at your high school graduation party.
To decorate your table, add some party favors featuring some school colors! There are tons of fun options to reward your son or daughter's accomplishments.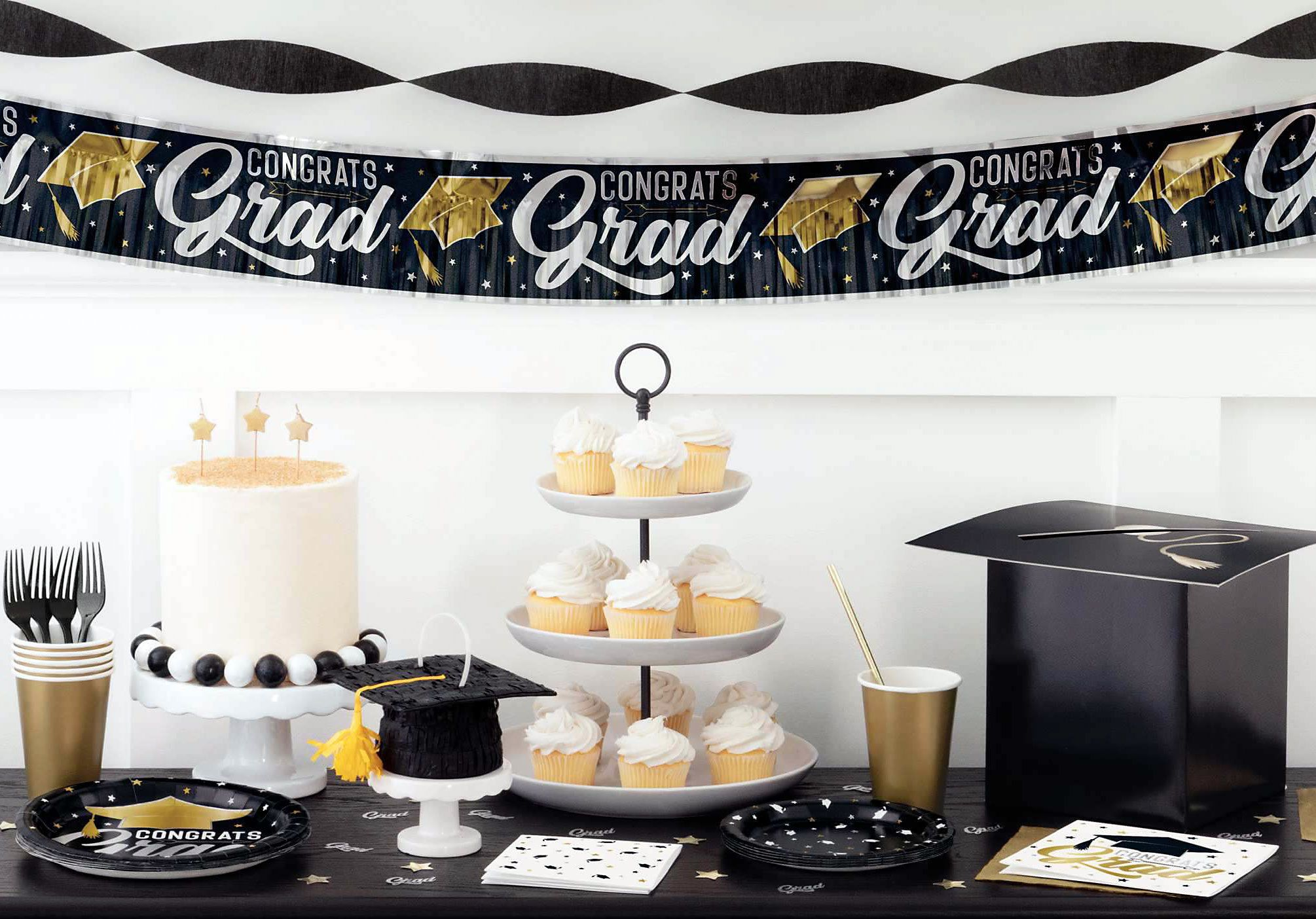 Graduation Party

Idea #17: Graduation Food Ideas 

Choosing the right buffet tableware, cutlery, and decorations is one thing. Sadly, it counts for very little if you don't choose the right menu. Baking graduation cap cookies is also popular as a party special.

As for drinks choices, this guide will help you make some fantastic decisions. For school graduates, it's important to have an age-appropriate drinks menu. Adults and college students can enjoy fruit punch or alcoholic drinks to toast school spirit!

 
Graduation Party

Idea #18: Graduation Yard Signs 

When celebrating your child's graduation from school or college, you want to shout it out from the rooftops. Graduation yard signs are a fantastic way to make a powerful statement while also helping guests to find the venue of your small gathering with ease.

Designed with some college colors, this makes them a good option when looking for outdoor graduation party ideas and party supplies on a graduation theme.

Once again, this is an item that can subsequently be stored as a keepsake. You'll be able to reminisce for every graduation year to come.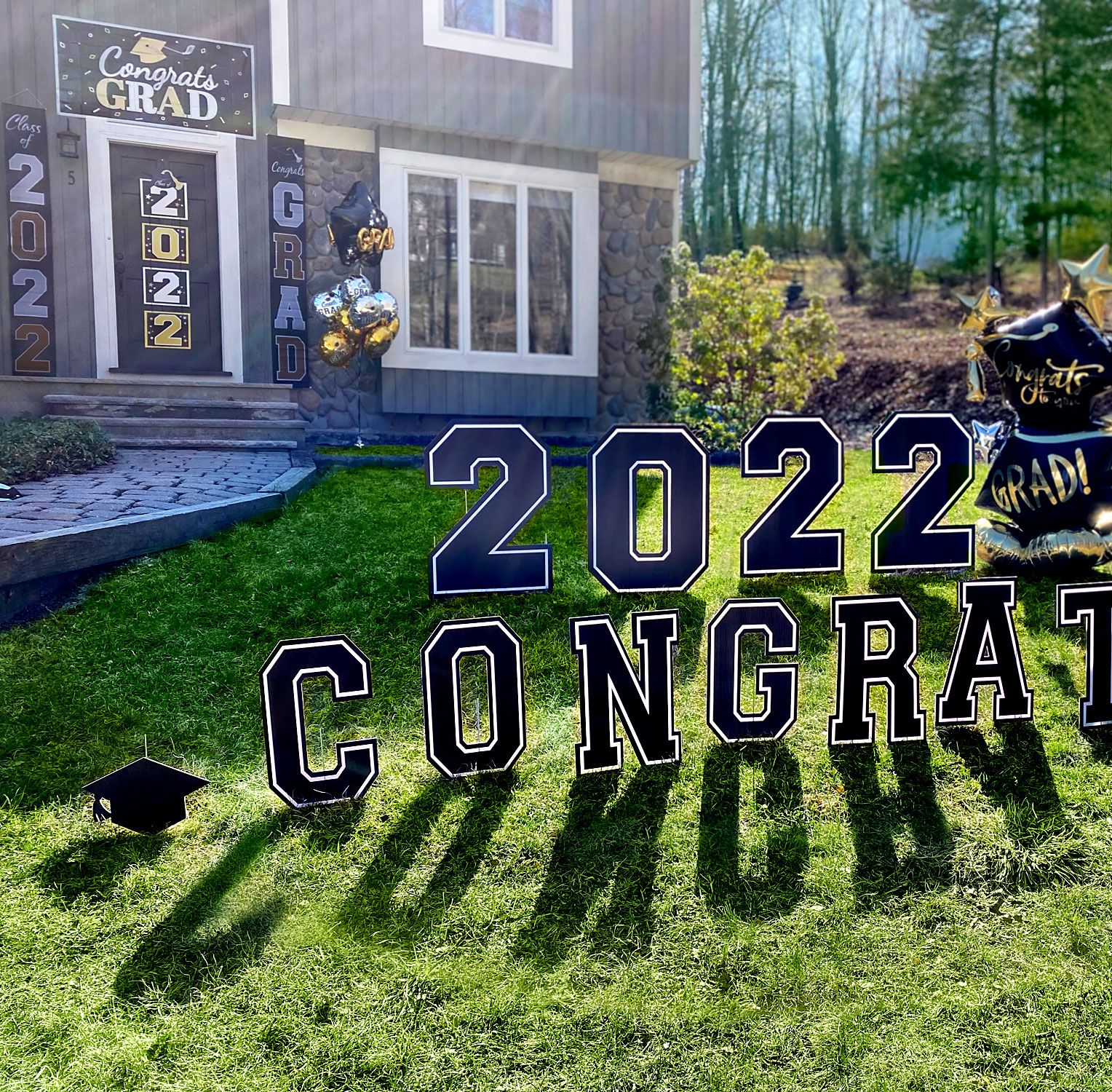 Graduation Party

Idea #19: Balloon Table Center Piece 

Centrepieces are important for bringing attention to the right part of the room. There are many options at your disposal, but the ring balloon centrepiece kit is a very popular choice. It helps set the tone of the party and can be paired with signs to direct guests.

Another cool idea is to display everyone's pictures all over the table underneath a display of a commemorative video of the graduate and close friends.
Graduation Party

Idea #20: DIY Balloon Backdrop 

Having these fun graduation party ideas throughout the home and garden is great, but you also need to build a winning backdrop for your college graduate.

Balloon backdrop grids make it particularly easy. And, once again, you can cover up any walls that are looking grubby. Adding graduation-themed balloons like supershape foil balloons is always a good idea for a more festive look!

 
Graduation Party Ideas for the Best Grad Party
If you're looking for more graduation party ideas, you can always turn to the web. With so many ideas and tutorials available online, you can always find the perfect graduation party ideas. You can also opt for DIY ideas a fun way to help you make your graduation party even more memorable.
With the right tools and all the photos, you can make your celebration even more memorable. You don't have to stop with a graduation party, you can also throw a formal dinner for your graduate. Depending on your budget and the size of your guest list, throwing a formal dinner for your graduate can be a great idea.
All that's left to do is P-A-R-T-Y.