Today we are sharing some amazing mermaid birthday party inspiration! It's all about mermaids and under the sea party supplies. Are mermaid parties fun, you ask? Let's discover them together!
Mermaid Party Decorations
Styling an elegant underwater mermaid birthday party? Here are some simple and fabulous party ideas for mermaid lovers!
Mermaid Party Supplies
Parties are one of life's greatest pleasures. They not only bring joy and happiness to each and every guest, but they also provide a creative outlet for bringing a concept to life. With a bit of imagination and a few mermaid birthday party supplies, your party will surely make a splash!
While many parents stick to a specific theme for many of their parties, to simply have fun and give good food, changing things up allows you to get crafty with décor, tableware and other details to create the perfect DIY mermaid party.
This takes us to the topic of mermaid parties with many decoration ideas! If you or your child is enamoured with all things sea-related, it's time to harness your inner Ariel and create a little mermaid-themed party in your own living room or patio.
Mermaid Party Ideas
We're here to lend a hand because coming up with mermaid party ideas like snacks and décor might be difficult. You'll find our favourite mermaid party theme, treats, balloons, plates, and more, all of which you can make yourself or buy.
Whether you use one, two, or all of the suggestions, one thing is certain: your guests will feel as if they've entered the perfect, beautiful under-the-sea world and won't forget it.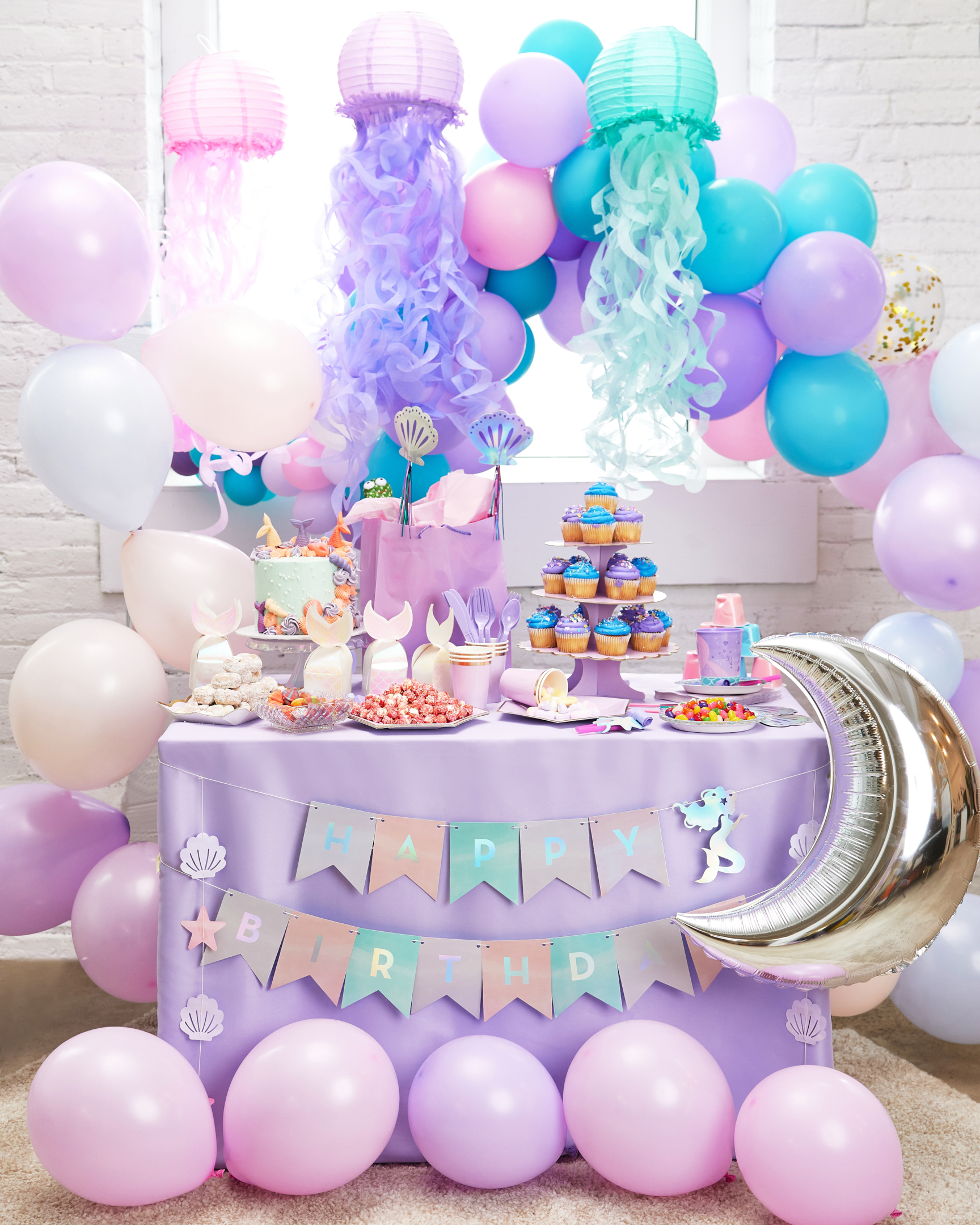 Mermaid Invitations
Mermaid birthday invitations may set the tone for your underwater party. Mermaid birthday party invites must include a vibrant mermaid-themed design that may be personalized with your specific event wording.
Add beautiful small fishy friends, sparkling dazzle, delightful turtles, and shark mates for mermaids with fluid tails highlighted by gold-foil pressed printing to match the theme. If you would prefer not to make them yourself, you can get some great mermaid invitations that are ready to send.
Mermaid Party Decor Ideas
The first place to start with decorations for a mermaid party is with a colour palette. You can use rich pinks and purples, colourful greens and teals, or a combination of your daughter's favourite colours.
Mermaid birthday party supplies will provide an ideal photo opportunity by jazzing up the party location. Purple and turquoise bushels, jellyfish lanterns, tea lights in the dark, twisting paper streamers, and fish cutouts in between the "seaweed" can all contribute to the ideal mermaid-themed party palette.
Mermaid Themed Party Centrepieces
Make a statement at your child's special occasion with Mermaid birthday party centrepieces that will have everyone swimming towards towards the party table.
A brightly coloured mermaid ornament with its cute design with felt seagrass, starfish, sea horse, and coral is a quick way to add flair to any party table. Decorating the table is always a fun activity!
Mermaid Party Supplies: Dress Up
The greatest female mermaid-themed birthday party ideas should incorporate a dress code based on the water. You can invite your guests to participate in their mermaid birthday party attire to mimic the perfect mermaid look, such as a vibrant tutu or a DIY mermaid tail.
Mermaid costumes can be provided, and for convenience, a dress-up station can be set up during the celebration. Party Expert has some great mermaid costumes!
A Mermaid Birthday Cake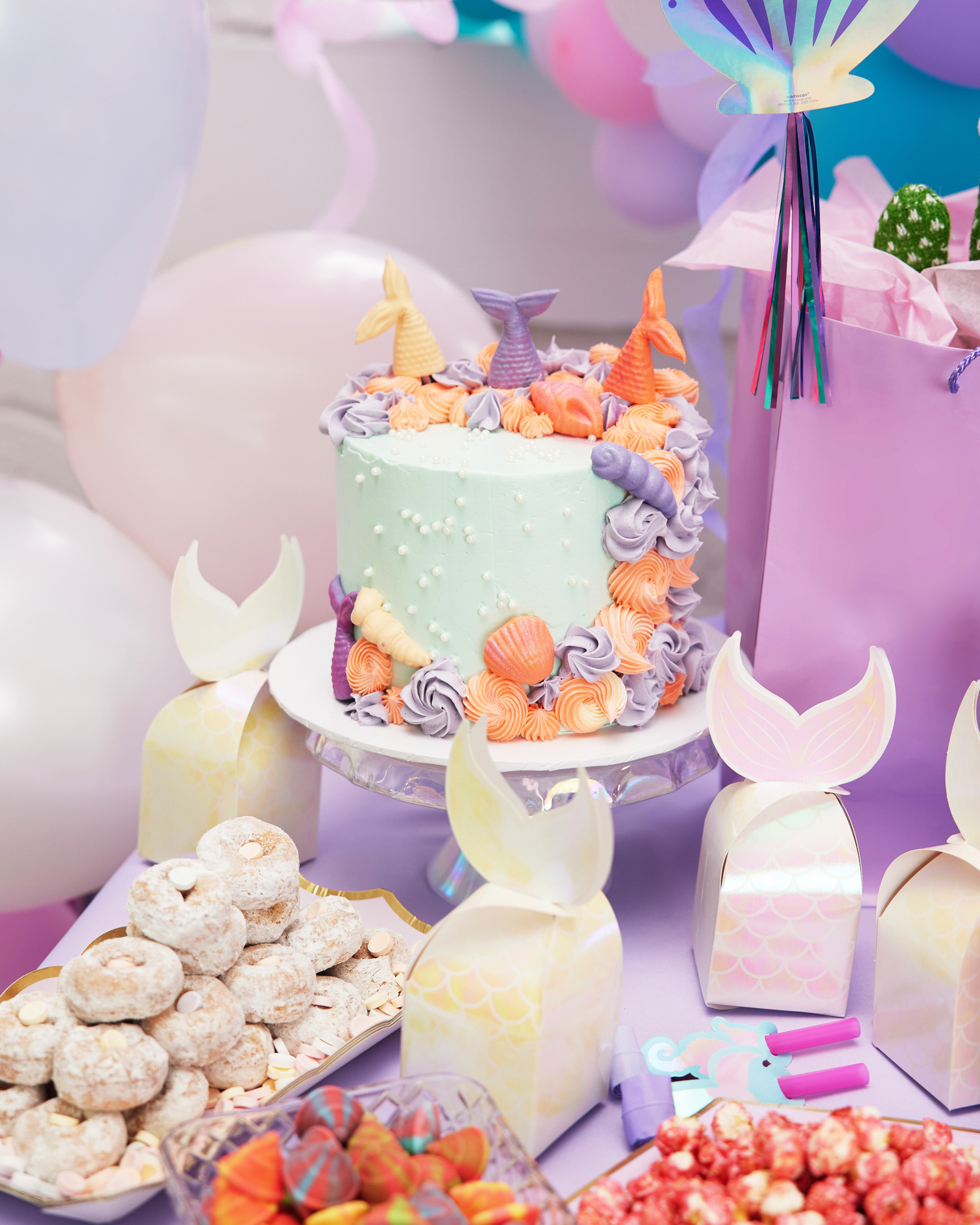 Every birthday honouree deserves a beautiful mermaid birthday cake with some nice cake decorations like a mermaid candle or a mermaid cake topper. Whether you're going store-bought or the homemade cake route, you can certainly benefit from a unique mermaid tail decoration.
A lovely mermaid cake with watercolour touches and seashell accents are all options.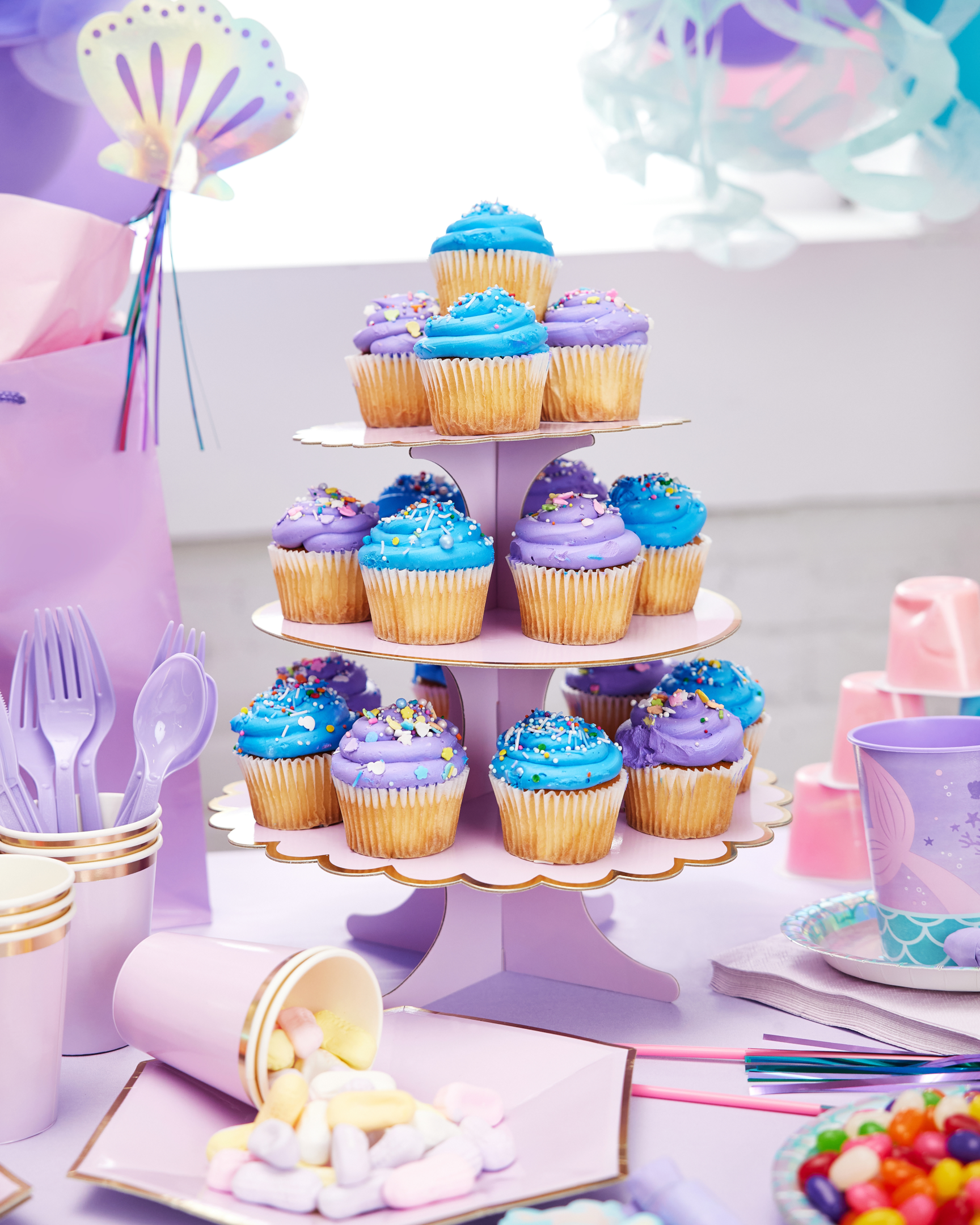 You could also use mermaid tail cupcakes as an alternative or in addition to a birthday cake. Choose cupcake colours that complement your party theme or the birthday girl's or boy's preferred colours and add a cute mermaid tail.
Another great idea for all the kids who love mermaids is to make some mermaid cookies with them. Then, you can add it to the dessert table to enhance your little mermaid birthday theme, using them as edible birthday decorations.
Mermaid Party Food Ideas
On a hot summer day, the best mermaid-themed birthday party food ideas can either liven things up or chill you down. Consider making some extra-iced mermaid donut holes if your child likes donuts.
Cookie pizzas are always a wonderful idea, especially when they include mermaid-inspired toppings. This is one of many fun ideas that can really jazz up your buffet!
Another super delicious idea is to create chocolate-covered pretzels, melt white chocolate wafers and add food colouring of your choosing.
To emanate enchanting mermaid vibes, introduce a new drink tinted with teal, turquoise, and purple sanding sugar.
Make some adorable mermaid tail scale cookies with your favourite sugar cookie recipe, cream icing, and fondant. Sand dollars can be 100% edible and 100% wonderful when lightly coated with cinnamon sugar and topped with a slivered almond pattern.
Mermaid tail lollipops or Mermaid rice crispy treats can be presented as appetizers to whet the appetites of your little guests. Remember to make simple desserts that are super cute. You could even fill mason jars with ice cream cones and ice cream matching your colour palette.
Mermaid Birthday Theme Party Games
Mermaid birthday party games can be used as icebreakers to get people talking and interacting. Set a fun mermaid party mood with our great under-the-sea-themed party game ideas!
You can download a free "pin the tail on the mermaid" as a good classic party game. But you can also design a giant fish on a piece of art board, then cut out the mouth region to hurl bean bags into. Each youngster can throw three bean bags in turn.
They can also throw plastic gems or gold pirate money into a treasure chest. You might also give the children gold pirate coins to put in a fishbowl.
Another mermaid-themed party game is searching for a piñata shaped like a mermaid, fish, or treasure chest, which requires a child's fishing pole with a clothespin on the line instead of a fish hook. You must "Fish" beneath a sheet where a prize can be placed.
Make a cornucopia of treasure, such as chocolate coins or bright costume jewellery, to help guests uncover prizes concealed somewhere around your party site, guided by a DIY treasure map.
Mermaid Piñata
Another great party game is a mermaid piñata. Fill it up with mermaid-themed treats, blindfold the kids and have them hit it as hard as they can to get them out. A piñata always goes down well with children and is a fun party activity for all ages.
Happy Birthday Mermaid Banner
Is the setup of a birthday party really complete without mermaid party decorations that include a happy birthday bannerfor the birthday girl?
Mermaid Party Supplies
Make a spectacular splash to turn any room into an iridescent underwater paradise. Make colourful party food and serve it on shimmering mermaid and shell plates for a bit of party excitement.
Mermaid Party Favours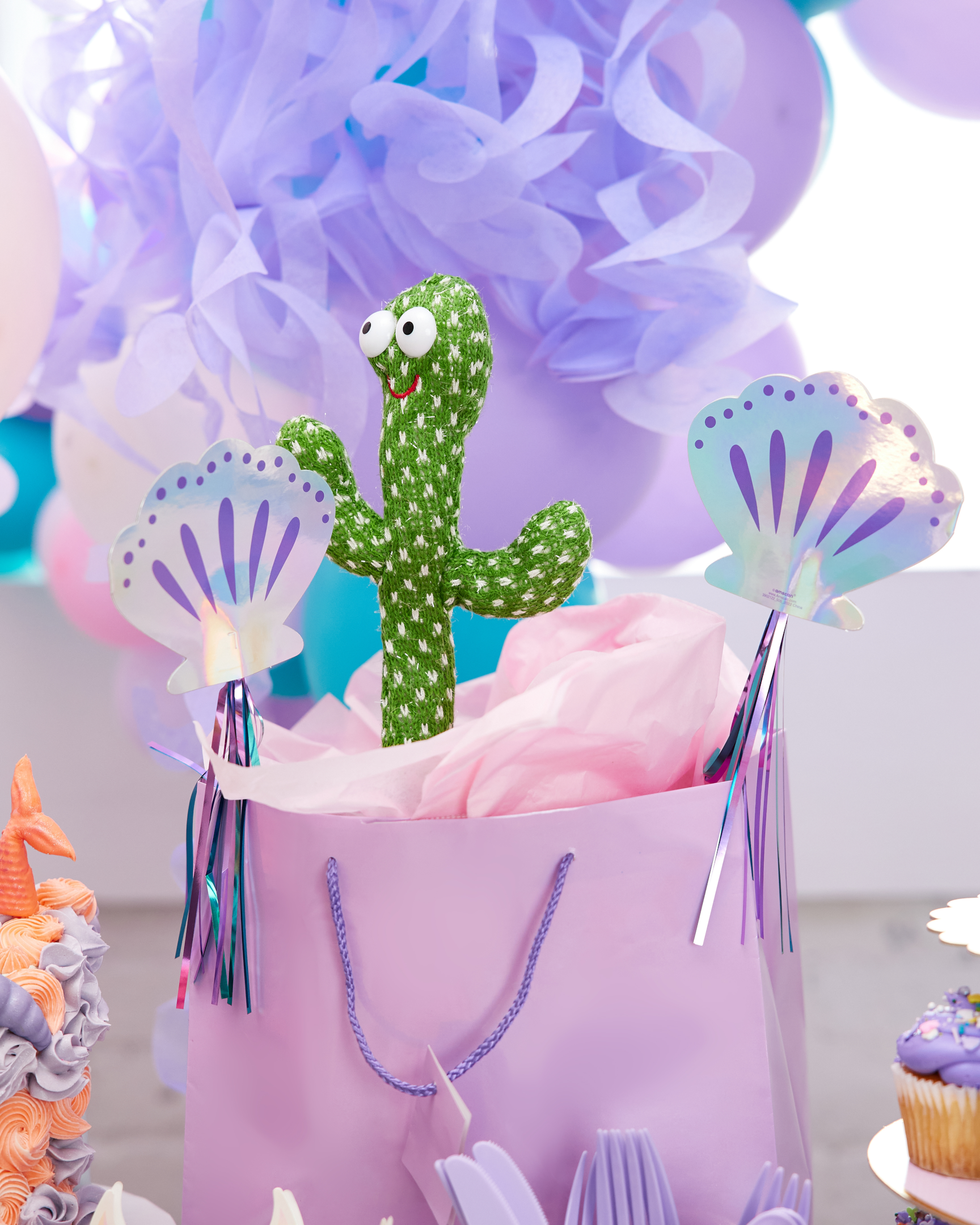 Although it's difficult to leave a birthday party that's so much fun, mermaid-themed birthday party favour bags will always remind you of the good times you had with your friends.
A themed bag or bucket filled with chocolate coins, bubbles, a mermaid colouring pack, themed stickers, jewellery, a seashell keychain, or even items like a bath bomb can make excellent mermaid birthday party gifts.
Party Expert has many great ideas for favours, such as mermaid pencils, puzzles, and starfish mermaid wands. When looking for mermaid birthday party ideas, make sure you include some mermaid gift bags.
Mermaid Party Activities
Hire a face painter to decorate the faces of your little visitors with their favourite sea creature or mermaid character. Then, they might get together to make gorgeous DIY shell jewellery out of kid-friendly materials such as paper, foam, or even real shells.
Crowns can be constructed from actual seashells, paper decorations, stick-on diamonds, and other interesting accessories such as gleaming blue scales and appealing purple embellishments to complete your mermaid dress attire.
Party games are a chance to bond with friends, explore the ocean floor, and learn about marine life in a fun and exciting way.
Mermaids have a unique place in the hearts of children, just as the ocean is one of the most beautiful and fascinating areas of our world. Thus, a mermaid-themed birthday party is guaranteed to create lovely childhood memories!
Mermaid Party Decorations: Mermaid Balloons
This mermaid balloon backdrop from Party Expert would make the perfect backdrop for any mermaid theme. You could also add some foil balloons filled with helium that double as something fun for the mermaid party as well as being an amazing party decoration that all little girls will love.
You can decorate your entrance with awesome party streamers, seashells and other birthday supplies. Then, hang a DIY mermaid net filled with balloons ready for when your guests arrive to your sea birthday party for the special birthday girl!
The Perfect Mermaid Party
The marine realm and mythological sea-dwelling animals such as mermaids captivate children. Folk tales about these magical maidens date back to roughly 1000 B.C. and are found in cultures throughout the world.
It's no surprise that their amazing legends have not only caught the imaginations of children, but have also prompted parents to contemplate a mermaid-themed birthday party celebration.
These exciting DIY mermaid birthday party ideas will let you show off your appreciation for the underwater world while still organizing a budget-friendly party.
All you need is some imagination and a little fantasy to work with a little mermaid theme for your child's next birthday party.
Exotic mermaid-themed decorations, party favour ideas, activities, outfits, invites, desserts, and cuisine can make every guest happy and cheer them up.
With all of the suggestions above, you'll soon be throwing your own little mermaid party. If you would like to see more have a look at all of Party Expert's mermaid party ideas here.